Anger over break-in at Calman Cancer Support centre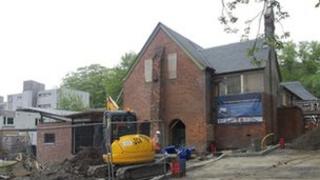 A cancer charity has criticised "heartless" thieves who stole about £5,000 worth of tools from its under-construction new home in Glasgow.
The Cancer Support Scotland centre, in the grounds of Gartnavel Hospital, was targeted sometime between the evening of 17 May and the following morning.
Battery drills, a sander, a router and a jigsaw were among the items taken.
Charity chief executive Colin Graham said: "What these people have done is heartless and has angered us all.
"We plan to move into our new centre in under three months, but there is still a lot of work to do.
"The construction workers got little work done on Friday."
'Worthwhile cause'
Site manager Richard Shields said the thieves unscrewed plywood shutters on the centre and then put them back to look like the building had not been disturbed.
"For the joiners this more or less stopped work on Friday," he said.
"I'm just disappointed that somebody would do that, it obviously affects the livelihood of these guys - a lot of them are self-employed.
"We're doing this for a worthwhile cause as well. It's disheartening that somebody would do that."
Cancer Support Scotland offers help and support to people affected by cancer, including friends, family and carers.
Its new Calman Cancer Support Centre at Gartnavel will offer free complementary therapies and support groups to about 1,400 people each year - treble the charity's current capacity.
The charity has asked anyone with information about the break-in to contact police.