Sir David Murray tops tax-free payment list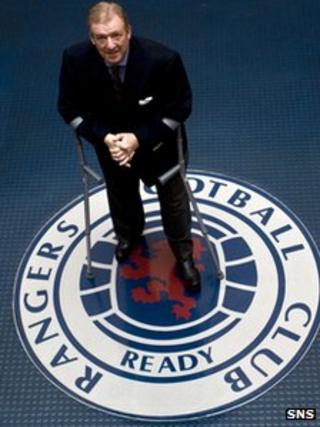 Former Rangers owner Sir David Murray was the biggest beneficiary of an Employee Benefit Trust operated by the Murray Group and Rangers FC, according to documents seen by BBC Scotland.
From 2001-10, Rangers put £47m in to up to 87 sub-trusts for players, coaches and staff. Separate contributions were made by Rangers' parent company, MIH.
Sir David received £6.3m via an EBT.
He told the BBC he had never received any payment from any trust which involved contributions from Rangers FC.
The full extent of the scheme is revealed in a BBC Scotland documentary - Rangers: The Men Who Sold The Jerseys - screened on Wednesday at 20:00BST.
Rangers' annual accounts from 2001-2010 show the Glasgow club invested a total of £47.659m to the Murray Group Remuneration Trust. Separate contributions were made by Rangers' parent company, Murray International Holdings, of at least £10m.
Funds were deposited by Rangers and MIH into the Jersey-based trust, which then divided it into sub-trusts for the benefit of players, coaching staff, directors and other employees in the form of tax-free loans.
Sir David received more than a dozen payments from the trust over nine years totalling £6.374m, including the single biggest payment over the life of the scheme - £1m.
Former Rangers player/manager Graeme Souness received £30,000 from the trust in 2001 - 10 years after leaving the club.
Mr Souness led the Rangers revolution in the 1990s, setting the club on the road to their famous nine-in-a-row championship title-winning run, but he left the club in 1991.
Ten years later Mr Souness was managing the English side Blackburn Rovers, and, just five weeks after requesting a payment from the trust, he completed the signing of Turkey international midfielder Tugay Kerimoglu from Rangers.
The BBC has seen files which showed that HMRC suspected Mr Souness's payment could have been illegal in relation to the transfer of Tugay, but it found no additional documentation to verify it.
Mr Souness declined to respond to BBC Scotland's allegations.
The documents reveal that 63 players, 24 staff and a further 24 of the Murray Group employees benefited from the scheme, which is currently subject to a First Tier Tax Tribunal at the Court of Session in Edinburgh.
Playing by rules
BBC Scotland has also seen evidence, which was submitted to a court, suggesting that 53 Rangers players and staff had side-letters giving undertakings to fund their sub-trusts with cash.
Scottish Football Association rules state that all payments made to players in respect of their earnings from football must be declared by their club.
In a letter to HMRC in 2008, the Murray Group insisted they were playing by the rules of the EBT scheme.
The letter stated: "There is no trigger for the chain of events that led to an employee being told that they can apply for a loan from the trust … the company has no control over the funds in the trust."
The Ibrox side, currently in administration over debts - including unpaid PAYE tax and National Insurance, made payments to players through the trust ranging from £7,500 for Belshill-born defender Steven Smith to £2.494m for the club's former captain Barry Ferguson, who is now at Blackpool FC.
When Dutch goalkeeper Ronald Waterreus negotiated his contract to join Rangers, in 2005, his agent questioned the tax scheme.
Mr Wattereus' agent was told by a club representative in correspondence seen by BBC Scotland that using the trust was "...in the interests of Ronald as it enables him to receive funds tax-free".
The representative added: "I can confirm that we will not pay these amounts to [Ronald] unless they are made through the use of the remuneration trust."
Alex McLeish, who managed Rangers from 2001-2006, received £1.7m over five years from the trust, while his successor, Paul Le Guen, received £200,000 over one year.
'Not aware'
Other beneficiaries of the trust include the former Rangers chairman John McClelland, who received £200,000 over five years, and ex-chief executive Martin Bain who received a £100,000 loan in 2003.
Mr Bain's total payments over five years amounted to £250,000.
The current president of the SFA, Campbell Ogilvie, received a total of £95,000 over five years, but said in a statement that he was never involved in negotiating, drafting or administering player contracts.
"I was not aware of which players received EBTs," Mr Ogilvie said. "And, having been advised that the scheme was being operated in accordance with the regulations, I therefore did not raise any aspect of this with the Scottish FA."
Paul Baxendale-Walker, a tax advisor who brought the EBT scheme to the Murray Group, said: "The problem as we all know is how Rangers implemented the structure, how they drove the bus.
"But then again it's only a problem if HMRC win. If HMRC don't win, then hopefully you're going to come back and say Paul, all the Rangers fans in this country want to thank you because you single-handedly saved Rangers FC £50m. You're a hero."
Rangers: The Men Who Sold the Jerseys was broadcast on BBC One Scotland on Wednesday 23 May, and was available afterwards for one week on the iPlayer.