Man, 23, dies at park waterfall at Linn Park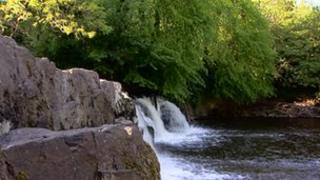 A 23-year-old man has died after getting into difficulty at a waterfall in a park on the southside of Glasgow.
Police went to Linn Park, near Simshill, at 13:45 after receiving a call that a man had jumped into the water and did not resurface.
A search and rescue operation was launched and Nicholas Smith, from the Gorbals area of the city, was pulled from the water by emergency services.
Mr Smith was taken to Glasgow Victoria where he later died.
The death came as Glasgow saw temperatures of 23C, well above the expected May temperature of 16C.
Kinlochewe in the Highlands was the hottest place in Scotland, at 27.9C. In Altnaharra, in the far north of Scotland, the temperature was 26.2C.
A spokesman said: "Water can be especially inviting during hot spells akin to the one presently being experienced by the UK.
"All water courses must, however be treated with the utmost respect due to the possibility of hidden hazards such as underwater currents, jagged rocks and water temperature.
"These hazards may not, in all probability, be expected or associated with a benign looking stretch of water."
Chief Fire Officer Brian Sweeney also urged people to treat water courses with respect.
He said: "Always ensure that your whereabouts is known and if you must enter a stream, pool or river for any specific reason then please ensure that you have taken all available safety precautions.
"I make no apologies for emphasising the plea to "be safe" when around any stretch of water."