Former RAF Machrihanish bought for £1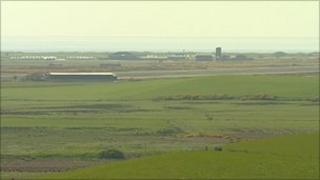 The former airbase at Machrihanish on the Kintyre peninsula has been sold for £1, BBC Scotland has learned.
The buyer is a company owned and controlled by local people, who hope the site can help reinvigorate the local economy near Campbeltown.
The former RAF station, which was owned by the MoD, was a strategically important site during the Cold War.
The Machrihanish Airbase Community Company wants to attract businesses to the areas and create jobs.
The 1,000 acre site includes Campbeltown Airport and a wind turbine manufacturing facility.
BBC Scotland understands they have signed long leases and will not be affected by the sale.
The Machrihanish base was used to house one of only three US Navy Special Warfare teams in the world, as well as an American Seal commando unit and Royal Marines.
Since the military pulled out in the mid-90s, much of the site has been largely empty.
The UK government's Scottish Secretary Michael Moore told BBC Scotland the community had been "working very hard" on the deal for years.
He said: "I am delighted that, using right-to-buy legislation and working closely with the Scottish government and the MoD, we now have a position where the local community body will be able to take over the asset and make sure it works for the community and builds the local economy."
The SNP treasury spokesman at Westminster, Stewart Hosie MP, said: "The Scottish government have been involved and I understand ministers have met with the people behind the buyout and the SNP certainly hopes it will deliver huge benefits for the community in and around Machrihanish."
BBC Scotland revealed recently Machrihanish is one of a number of military facilities in Scotland where there could be radioactive contamination.
It is understood the MoD could still be responsible for cleaning up any dangerous substances found there.