Sale of former RAF airbase at Machrihanish confirmed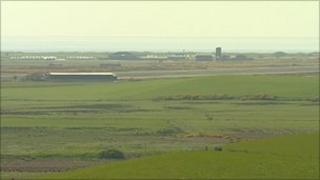 A former Argyll and Bute RAF airbase is to be transformed into a residential, commercial and leisure site after being bought for £1 by the local community.
The Machrihanish Airbase Community Company wants to use the site, on the Kintyre peninsula, to attract businesses and employment.
It now plans to invest £1.7m on infrastructure, with £300,000 spent on upgrading the condition of the base.
The 1,025-acre site has been largely empty since the mid-1990s.
Highlands and Islands Airports leases part of the site for use as Campbeltown airport.
Leases unaffected
A wind tower manufacturing facility is also located on the former airbase.
It is understood that both leases will be unaffected by the sale.
The base, near Campbeltown, was formerly used to house one of only three US Navy Special Warfare teams in the world, as well as an American Seal commando unit and Royal Marines.
After the military moved out, the site was declared surplus to defence requirements in October 2008.
Since then, local people have been engaged in a long process to take control under a community buyout.
A postal ballot on the project saw more than 97% of local people vote in favour of the scheme in May 2010.
The deal was finally concluded on 11 May and formally announced by Environment Minister Stewart Stevenson on Monday.
He said: "The Machrihanish Airbase Community Company buyout will benefit both the local community and businesses.
"Benefits will include improvements to the water, sewage and electrical infrastructure at the site."
Other improvements earmarked for the site include connecting 137 former Ministry of Defence houses and commercial properties to the water supply.
The site's private sewage system and electrical infrastructure will be upgraded.
Plans also exist to for renewable energy and biomass developments.
Machrihanish Airbase Community Company chairman Ian Wardrop said the deal for the site had "been a long road" but all the hard work in finalising it had "finally paid off".