Andy Coulson to 'vigorously contest' Sheridan trial perjury charge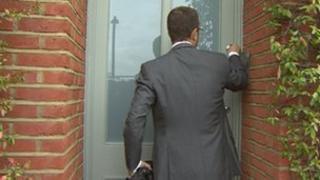 Prime Minister David Cameron's former director of communications Andy Coulson is to "vigorously contest" a perjury charge over the Tommy Sheridan trial.
Mr Coulson, 44, was detained at his home in London on Wednesday, taken to Glasgow for questioning, then formally charged and arrested that evening.
The charge related to evidence he gave at the perjury trial of former MSP Tommy Sheridan in 2010.
Mr Coulson's lawyer said he would fight the allegations if they went to trial.
A statement from DLA Piper said: "Andy Coulson will vigorously contest the perjury allegations made against him yesterday by Strathclyde Police should they ever result in a trial.
Hacking probe
"We have no further comment at this stage."
Mr Coulson was detained at his south London home at 06:30 BST on Wednesday by Operation Rubicon detectives.
They have been looking at whether certain witnesses lied to the court during Sheridan's trial, as part of a "full" investigation into phone hacking in Scotland.
Mr Coulson arrived at Govan police station, Glasgow, shortly before 15:30 BST and was released about six hours later after being arrested and charged. He returned home on Thursday morning.
The Crown Office has said that no date had been set for any court appearance.
Scotland's prosecution service will now take a decision about whether Mr Coulson should face a trial.
Mr Coulson gave evidence at the trial of former Scottish Socialist MSP Tommy Sheridan in 2010.
Sheridan was awarded £200,000 in damages from the News of the World in 2006 after it printed allegations about his private life.
The former MSP and his wife Gail were charged with perjury after the successful defamation case.
She was acquitted during the subsequent trial but Sheridan was convicted in December 2010 and jailed for three years.
Heated exchanges
He has since been released after serving just over a year of his sentence.
Mr Coulson gave evidence over two days at Sheridan's trial as he was editor of the News of the World between 2003 and 2007.
During heated exchanges with Sheridan, who represented himself, Mr Coulson denied being involved in, or aware of, any illegal activities, including phone hacking.
Mr Coulson resigned from the post of Mr Cameron's director of communications in January 2011, saying coverage of the News of the World phone hacking scandal had "made it difficult to give the 110% needed in this role".
He was arrested in June 2011 by Metropolitan Police investigating the News of the World hacking scandal and later released on bail.