Campaigners march in Greenock to highlight knife crime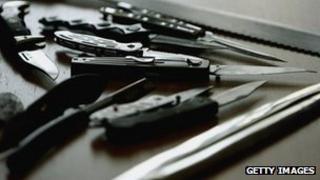 Hundreds of anti-knife campaigners have taken part in a march and rally in Greenock to raise awareness of knife crime.
The event was organised by pensioner John Muir, whose 34-year-old son Damian was stabbed to death in the centre of Greenock nearly five years ago.
The campaigners were calling for tougher sentences for anyone convicted of an offence involving a blade.
The march began at the esplanade and end with a rally in a local park.
Organisers said several families who had lost relatives to knife crimes were among hundreds to attend.
In the wake of Damian's murder, more than 20,000 people signed a petition in his memory.
It called for a review of current legislation on knife-crime sentencing.
Damian's attacker was sentenced to 15 years in prison.
Speaking about the rally in Greenock, his father said: "What we are saying is that the politicians of today are not doing sufficient, because the public have quite clearly given us the mandate to speak on their behalf by saying 'We want our streets back, we want to see stiffer sentences, we want to see things done properly - they are getting out too early from prison'."
Justice Secretary Kenny MacAskill has said tackling knife crime remains a priority of the Scottish government.
A "zero tolerance" crackdown on knife carrying in Scottish town and city centres came into force in April.
Under new guidelines, anyone caught with a knife will be prosecuted in front of a sheriff and jury and face up to four years in jail.
An initiative aimed at reducing knife carrying was also launched in North and South Lanarkshire earlier this year.
The No Knives Better Lives project uses work in schools and youth schemes, diversionary activities and advertising to discourage knife carrying.