'Bomb scare' after device found in Lennoxtown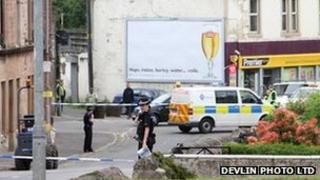 A number of homes were evacuated in East Dunbartonshire earlier after workmen discovered what is believed to have been a mortar shell.
Police were called to Service Street, Lennoxtown, at about 14:00 on Tuesday.
They sealed off the area and called in a bomb disposal unit. A number of homes were evacuated as a precaution.
The Explosive Ordnance Disposal team later deemed the device to be safe. The matter was resolved by 15:00 and residents were allowed to return home.