James McAlear convicted of causing death of Stephen Hendry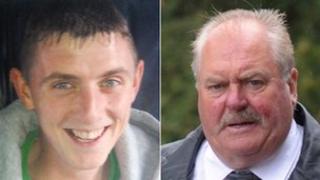 A rail worker who drove his van over a man lying in a Glasgow street has been convicted of causing his death.
James McAlear ran over Stephen Hendry in Caledonia Road, in the Gorbals area, at about 05:30 on 10 October 2010.
The 61-year-old denied driving without due care or attention or without reasonable consideration for others but was convicted by majority verdict.
At Glasgow Sheriff Court, sentence on McAlear was deferred until next month and his bail was continued.
The court heard that McAlear, from Cambuslang, South Lanarkshire, was returning home from a night shift when he drove his Network Rail Vauxhall van over Mr Hendry, who was 23.
'Surprisingly normal'
The trial heard from PC Andrew King - a road traffic police officer who attended the scene.
He took a statement from McAlear about the incident shortly afterwards.
Solicitor advocate Liam O'Donnell, defending, asked: "What condition would you say Mr McAlear was in when you spoke to him?"
The witness replied: "Surprisingly normal."
He said: "Given the circumstances my own feeling was he didn't pay much mind."
PC King was asked to read out the statement he took from McAlear.
The court was told McAlear had been returning from his job in Bishopton and had been driving along Caledonia Road.
He told the officer the weather was fine, cold but nothing unusual, and that the street lights were on.
He said: "By the time I had seen him I just couldn't do nothing. I seen him lying there in lane one at an angle, belly down, with his head pointing towards the opposite side of Caledonia Road.
"When I first saw him he was just a couple of yards in front of me. I couldn't do nothing by the time I realised it was a body.
'Careful driver'
"It was too late I couldn't swerve or nothing. I went over him not, my wheels, just in between the chassis."
During his evidence, McAlear told the jury he was a "careful driver" and was paying attention that morning.
He also said he was "devastated" that he had killed Mr Hendry.
Following McAlear's conviction, Mr Hendry's mother Maureen said the family now had a "wee bit of justice".
Antony Welsh, Mr Hendry's cousin, said: "To be honest I don't know what words to say. It's a bit of closure and lets us move on."