Glasgow survey finds out of school lunchtime foods 'not healthy'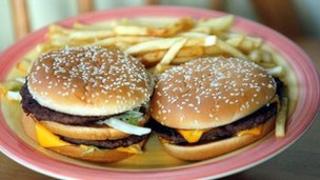 School pupils in Glasgow who buy lunch outside school are likely to be consuming too much energy, fat and salt, a survey has found.
The Glasgow Centre for Population Health study bought 45 lunch items around five secondary school areas.
It found 37 samples did not comply with one or more of the nutrient standards for fat, saturated fat and salt.
The study concluded that more needed to be done to encourage healthier "stay-on-site" lunchtime eating among pupils.
The research was led by Fiona Crawford, from Glasgow Centre for Population Health.
Nutritional analysis
She said: "Researchers visited study areas around five schools during school lunchtime to identify commercial outlets popular with pupils and to observe pupils' lunchtime purchases.
"In collaboration with environmental health colleagues, sampling officers subsequently purchased 45 pre-agreed items and conducted nutritional analysis of each to compare the quality of key nutrients with Scottish nutrient standards for school lunches."
Of the 45 items tested, about half exceeded recommended energy levels, while more than 50% exceeded recommended fat and saturated fat levels.
More than a third exceeded recommended salt levels.
Ms Crawford added: "Given the fact that a number of pupils also bought sugared drinks, crisps, and confectionery, it is likely that their lunchtime energy, fat and salt consumption will be even greater than that revealed by the nutritional analysis."
This study concluded that several factors needed to be addressed if healthy eating was to be increased amongst secondary school pupils.
These included the use of licensing and planning powers to control the number and concentration of take-away food outlets near schools and the possible introduction of taxes on unhealthy foods and subsidisation of healthy foods.
Glasgow City Council, which commissioned the research, said it was further evidence that its stay-on-site healthy eating initiative - The Big Eat In - was a better option for pupils.
'Creative approaches'
Councillor Stephen Curran, executive member for education, said: "Teachers and catering staff in all of our secondary schools are committed to helping our young people learn about the benefits of adopting a healthy lifestyle and good diet using a variety of school based policies and initiatives.
"The Big Eat In was introduced to encourage pupils to stay on site at lunchtime to eat a healthy lunch and enjoy lunchtime activities on offer in school.
"Glasgow will continue to find creative approaches to encourage healthy eating among all our young people and I'm delighted that over half of our secondary schools have now introduced stay on site policies for younger pupils."
The council said evaluation had also concluded that school lunchtime stay-on-site policies offered other benefits such as increased safety and promoted better staff-pupil relationships.
But it was recognised the scheme was not popular with all pupils and carers.