Glasgow Royal Infirmary 'lacks suitable toilets'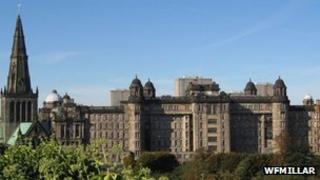 Elderly patients in Glasgow Royal Infirmary are often being cared for on wards that do not have suitable toilet or bathing facilities, according to an inspection report .
The Healthcare Improvement Scotland report also said many patients had to wear ill-fitting gowns or pyjamas.
But all the patients spoken to by inspectors said they were happy with the care and treatment they received.
Overall, inspectors found four areas of strength and 18 needing improvement.
The announced inspection, carried out in the first week of May, looked at wards which largely care for elderly patients, some of whom have dementia.
Several of the areas which needed improvement related to the patient environment within the hospital, which often did not allow for the dignity of patients to be respected.
Isolation room
For example, patients in some wards could not access a toilet if they needed the assistance of two nurses or used a walking frame.
In five wards, there was a lack of choice and limited availability of bathing facilities, while on one ward, two baths were available for 32 patients.
There was one shower on the ward, but this was an en-suite facility for an isolation room and was not available to the whole ward.
Most patients were given a basin at the bedside to wash with. Two said this was not their choice, but they felt they had no other option.
On another ward, there was only one working shower for 15 patients. It was in a large room with no lockable door, no shower curtain and only limited indication that it was a shower area.
Among the other concerns raised by the inspectors was that many patients were wearing gowns which did not preserve their privacy, while some male patients were wearing pyjamas that had to be held up when they were walking.
The report also said NHS Greater Glasgow and Clyde should remove clutter in wards and corridors to make it easier for patients to move around.
Sensory loss
The inspectors highlighted several examples of staff communicating well with patients, and praised the older people's mental health liaison service that works with the community mental health teams.
It also praised the heath board's appointment of a nurse consultant in conjunction with Alzheimer's Scotland to develop dementia care.
But they raised concerns about staff sometimes walking in announced when a patient was bathing, and inappropriate language bring used in patient health records - with patients described as "pleasantly confused" on three occasions.
And they said NHS the health board should continue to develop signage throughout the hospital to help those with dementia, cognitive impairment and sensory loss find their way around.
Susan Brimelaw, chief inspector at Healthcare Improvement Scotland, said: "Our inspection team noted areas where NHS Greater Glasgow and Clyde is performing well.
"However, we also found areas where improvement is required. The environment within Glasgow Royal Infirmary does not consistently allow for the dignity of patients to be respected.
"Moreover, a number of assessments of cognitive impairment and pressure areas were poor or had not taken place, and as such inspectors could not be assured that the care plans were appropriate."
NHS Greater Glasgow and Clyde is currently working on an improvement action plan which is designed to tackle the weaknesses raised by the inspectors.