Charles Green completes Rangers purchase despite Walter Smith bid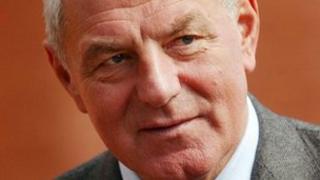 Charles Green has completed his purchase of Rangers' assets in a deal worth £5.5m.
The announcement came shortly after former manager Walter Smith announced a last-minute bid for the Ibrox club, which is to go into liquidation.
In a press conference at Ibrox, Mr Green offered to make Mr Smith the club's new chairman.
He also said he wants Ally McCoist to continue as club manager, but said he had not spoken to McCoist about it.
Rangers is to enter liquidation after creditors refused a deal to allow it to emerge from administration.
BBC Scotland understands Mr Smith's bid is worth £6m, which is half-a-million pounds more than Mr Green's group paid for the club's assets.
Mr Green said in a statement: "Following the formal decision of the creditors' meeting at Ibrox Stadium today, the consortium I represent has fulfilled its agreement with the administrators and has completed the acquisition of the business and assets of The Rangers Football Club plc.
"The transfer of the business and assets to a new company structure has taken effect immediately and the new company is The Rangers Football Club.
"An application has already been made by the company to register with the Scottish Football Association and to participate in the SPL."
The Rangers Supporters Trust has urged fans not to renew season tickets in a bid to put pressure on Mr Green to sell to Mr Smith's consortium.
A statement from the Trust said Mr Smith's bid was the only one that would ensure the Rangers family stayed united.
Mr Smith said he would be assisted in his bid by Jim McColl, Douglas Park and "other prominent Scottish businessmen".
In a statement issued on Thursday, Mr Smith said: "I can today confirm that following talks over the last few weeks I am leading a new bid for Rangers Football Club.
"I have been assisted by Jim McColl, Douglas Park and other prominent Scottish businessmen with a shared objective - that Rangers Football Club should be in the hands of Rangers people who will stabilise the club and protect it from future situations like we find ourselves in today.
"With this in mind, representatives have, on behalf of my group, made representations to BDO, Duff and Phelps and indeed Charles Green, notifying them of our willingness to offer on the "Newco" basis on which Mr Green is proceeding."
Mr Smith said his group was now calling on the Green consortium to "step aside" and allow his group to proceed "in the best interests of the creditors, the employees, the fans and the various other stakeholders of Rangers Football Club".
He added: "None of our group has any desire to own Rangers Football Club but we have put this deal in place to save the club.
"However, our overriding objective is to ensure that the stadium, the history and everything else magical about Rangers Football Club is protected and nurtured back to good health and provide a platform for Rangers for generations to come."
Turnaround plan
The former Rangers manager, who also managed English Premier League club Everton, made it clear that that the deal was "designed to stabilise the club and ensure history does not repeat itself".
He said: "We are not in this to take money out of the club but more so to do whatever it takes in a turnaround plan to ensure within a few years the club can be passed on intact and to the right people.
"The supporters should be under no illusion that it will be extremely hard but with their support we can overcome financial hardship that lies ahead by lending their support to what we feel is the correct way forward - for Rangers people who know the club inside and out to control its destiny.
"The prominent Scottish businessmen involved have agreed to provide acquisition funding to allow myself and a management team to take on Rangers Football Club and make the business self-sufficient with long term sustainability being essential."
Mr Smith ended his statement by saying he hoped the new offer would be "fully supported by everyone in the Rangers Family", saying that "without them the club cannot and will not survive".
The BBC understands that the Walter Smith-led consortium has approached Charles Green's consortium with an offer for the club, which included a nominal profit for the group now in charge at Ibrox.
However, that offer was rejected.
Mr McColl said: "I would issue a public appeal to Charles Green to strongly consider selling the club to the Walter Smith consortium.
"This would be in the best interests of Rangers Football Club, the Rangers fans and all of Scottish football. Mr Green does not have the backing of the Rangers support and the longer he delays the harder the situation will become."
Rangers was forced into administration on 14 February by HM Revenue and Customs (HMRC) over unpaid taxes of about £14m incurred during current owner Craig Whyte's tenure.
The club was also being pursued for up to another £75m by the tax authority over its use of Employee Benefit Trusts (EBTs) to pay dozens of players over the past decade.
Voted down
The scale of debt claimed by HMRC allowed it to vote down a Company Voluntary Arrangement (CVA) which would have seen all creditors accept a pennies in the pound deal for what they were owed.
The CVA, proposed by administrators Duff and Phelps and the Charles Green consortium, was formally voted down at a meeting at Ibrox on Thursday.
Rangers will now be placed in the hands of joint liquidators from BDO.
The Charles Green-led consortium confirmed hours after the vote that it had completed the purchase of the business and assets of Rangers under a previously agreed binding deal for £5.5m.
Mr Green said he had been appointed CEO and will sit on the company or plc board, with Malcolm Murray as chairman.
He said investors in his consortium included Chris Morgan, a UK-based businessman representing family trusts; Glenmuir, the Scottish clothing company; Ian Hart a Glasgow-based businessman; Alessandro Celano of Blue Pitch Holdings and Zeus Capital.
But Mr Hart has since issued a statement in which he denied being involved in the consortium - and said he would be supporting Douglas Park, who is part of Walter Smith's bid.