Service to mark 72nd anniversary of Lancastria sinking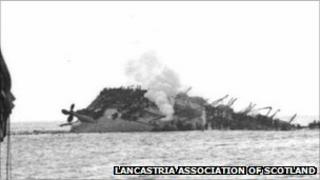 A service has been held in Clydebank to mark the 72nd anniversary of Britain's worst maritime disaster.
Members of the Lancastria Association were remembering more than 6,000 people who died when the ship was sunk off the French coast in 1940.
The British servicemen and civilians were fleeing the Nazis on board the Clyde-built ship.
The service was being held at the Lancastria memorial in the grounds of the Golden Jubilee Hospital.
'Enormous sacrifice'
The statue was unveiled last year following a long campaign by relatives of those who perished.
It stands on the site of the former Clyde shipyard where the vessel was built.
Fiona Symon, vice chair of the Lancastria Association, said: "Once again we are pleased that we are able to hold a commemorative service for survivors, their families and the families who lost loved ones during the sinking of the Lancastria.
"It took a long time to ensure that there was a major memorial in our country to tell the story of such enormous sacrifice.
"It is very important that the memorial is freely accessible to all at any time and hopefully will bring some comfort to so many families who have no known grave to visit in France."
Launched as the ocean liner Tyrrhenia, the Lancastria was taken over as a troop ship in 1939.
After evacuating troops from Norway, she headed for France to rescue many of the 150,000 troops left behind after Dunkirk.
Lancastria was sunk by a German bomber off the French coast at St Nazaire, two weeks after Dunkirk, on 17 June 1940.
Less than 2,500 survived out of the estimated 9,000 servicemen and civilians on board.
News of her loss was not reported because Prime Minister Winston Churchill thought it would affect morale.