Equal pay ruling against South Lanarkshire Council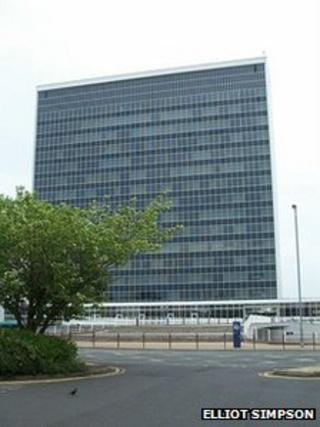 A Scottish council has suffered a setback in its equal pay dispute with 2,400 current and former female staff.
An employment tribunal has ruled South Lanarkshire Council's job evaluations did not comply with the Equal Pay Act.
The tribunal will now go on to hear the women's claims they were not paid on a par with male colleagues.
The cost of settling the case could cost the council millions of pounds. South Lanarkshire said it was considering its next course of action.
The row centre's on historic claims South Lanarkshire Council awarded extra bonuses for male workers while women on the same pay grade received nothing.
'Defending indefensible'
An Employment Tribunal has now ruled the council's job evaluation scheme did not comply with the provisions of the Equal Pay Act 1970, which are now incorporated into the Equality Act 2010.
The women's solicitor, Carol Fox, of Fox Cross Solicitors, said: "I am absolutely delighted for all the claimants who have waited over six years for this result.
"They have worked hard as cleaners, catering assistants and carers and have watched in dismay as all other councils reached settlements.
"South Lanarkshire Council ploughed on defending the indefensible at taxpayers' expense."
Ms Fox said it was now time for the women to be "shown the respect they deserve".
She added: "After six years of litigation it would be shameful if the council proceed to an appeal to continue to deny their female employees equal pay."
In a statement, South Lanarkshire Council said: "This is a complex judgement reflecting the fact that two and a half years worth of evidence was heard in this case.
"We will be taking time to analyse the content before considering our next course of action.
"Crucially, the tribunal did not find our job evaluation scheme to be sex discriminatory."
Union criticised
Ms Fox was also highly critical of the union, Unison, which represents some of the woman, saying it had "failed to raise one tribunal claim".
"Only after five years' work by others, in the middle of cross-examination of the local Unison rep, did the union do a complete u-turn," she said.
"Unison's officials in South Lanarkshire supported the employer and failed to take action to protect the interests of thousands of low paid female workers.
"Unison owes a huge apology to women who have paid lifelong subscriptions but received no assistance or legal support to fight for equal pay."
The union, however, strongly disputed this, saying it "wrote to all members in South Lanarkshire offering assistance with legal claims".
Unison said it had 87 members pursuing claims for equal pay in South Lanarkshire who were represented by counsel in the tribunal hearing.
Commenting on the tribunal judgement, Unison regional organiser, Peter Hunter, said: "While we recognise this is just a preliminary hearing on the design of the pay system and not an outright victory for individual workers, we call on the council to abandon its adversarial posture.
"Further litigation will only entrench past positions and delay transparency, equality and justice for workers.
"It would be a tragedy if further progress on equality was thwarted by years of expensive appeals and individual litigation."