Bicentenary celebrations for explorer Dr David Livingstone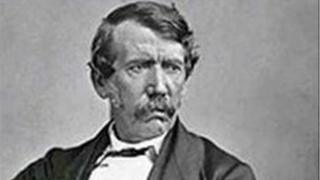 The bicentenary, next year, of the birth of Scottish explorer Dr David Livingstone is to be marked with a year-long programme of events.
The Scottish government has confirmed more than £250,000 worth of funding to celebrate his life and achievements.
Events will take place at the David Livingstone Centre, South Lanarkshire.
National Museums Scotland will also work with National Museums Malawi on an exhibition and skills development programme.
Dr David Livingstone was born in 1813 in Blantyre, Lanarkshire.
After qualifying as a doctor, he became a missionary and explorer in Africa where he helped to end slavery, especially in Malawi.
Dr Livingstone was the first European to see the waterfall in southern Africa he named the Victoria Falls.
He went missing on his final expedition, searching for the source of the Nile, and was tracked down five years later by the reporter Henry Stanley who greeted him with the famous words: "Dr Livingstone, I presume".
The funding for the bicentenary celebrations will have a particular focus on Scotland's links with Malawi and skills development for the protection of the countries' shared heritage.
On a visit to the David Livingstone Centre, where she met African singers and participants in a local community training programme, Culture Secretary Fiona Hyslop said: "Dr David Livingstone was one of Scotland's greatest explorers.
"Embodying a thirst for education and knowledge combined with inventiveness, enterprise and a capacity for endurance, he made a significant contribution to our understanding of the world.
"2013, the bicentenary of his birth, and our Year of Natural Scotland, is a fantastic opportunity to celebrate his many great achievements."
She added: "It is also an opportunity to build on his legacy - the enduring and strong relationship between the peoples of Scotland and Malawi and our commitment to tackling poverty in that country."
Labour MP Tom Greatrex, whose constituency includes Blantyre, said an invitation to visit Blantyre has been made to the President of Malawi to coincide with the 200th anniversary.
He said: "It would be a great honour for President Banda to visit Blantyre to mark the bi-centenary of David Livingstone's birth in 2013, and I welcome the UK government's support in making this happen."
Mr Greatrex added: "The town is at the heart of the Livingstone story, and Blantyre is rightly proud of the achievements of its most famous son."