Scott Kerr jailed for 10 years over rape and sex assault in Glasgow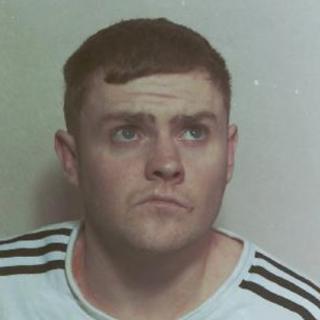 A man who admitted raping one woman and seriously sexually assaulting another in Glasgow city centre has been jailed for 10 years.
Call centre worker Scott Kerr, 22, from Dundee, was on a Christmas works night out when he attacked the women.
The offences took place 15 minutes apart in James Watt Street, close to Broomielaw, on 21 December last year.
At the High Court in Edinburgh, Kerr was ordered to be supervised for five years following his release.
A previous hearing at the High Court in Glasgow heard how Kerr, who originally comes from East Kilbride, South Lanarkshire, but was working and living in Dundee, had returned to Glasgow for a conference and Christmas night out.
Strip club
He and friends went to a strip club and then he walked off while they returned to their hotel. They tried to phone him, but got no reply.
The court heard that prior to the attacks Kerr was caught on CCTV cameras hanging around James Watt Street for about 40 minutes.
His first victim was a 20-year-old woman walking home from a night out.
When he saw her walking down the street at 03:55 he immediately crossed towards her and walked past her.
CCTV images showed him turning and running after the woman before dragging her off the pavement and into the car park of the Atlantic Quay building.
The woman fell to the ground and was then dragged further into the car park. She struggled and screamed and tried to get her boots off to use as a weapon.
After Kerr sexually assaulted the woman, who was described as "hysterical", she raised the alarm by flagging down a passing taxi driver.
The second attack on a 22-year-old woman happened 15 minutes later.
This woman was also returning home after a Christmas night out when Kerr tried to engage her in conversation.
The woman walked past him and he began following her. As she reached the entrance to the BT building, Kerr grabbed her by the shoulders and pushed her into the ramp. She screamed and he threatened to kill her.
Rape attack
The friend she had been speaking to on the phone hung up, then called her number in the hope of attracting passers-by to her plight. However, the mobile was on silent.
The woman was crying and sobbing as Kerr dragged her further down the ramp before raping her.
He then walked off and arrived back at his hotel later that morning.
Kerr was identified after CCTV images were shown in the media.
The court heard that a number of his work colleagues at Weatherseal phoned police and Kerr handed himself in to a police station in Dundee, although he claimed he knew nothing about either sex attack.
When Kerr was questioned by police he said he had handed himself in "to get himself out of the picture," and added it was not in his nature to do something like that.
He later pleaded guilty to both offences claiming he had no recollection of committing them.