Kelburn Castle's graffiti to be removed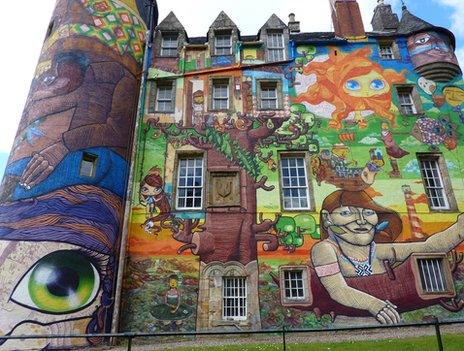 A graffiti mural painted on the exterior of a 13th century castle in Ayrshire is to be removed.
The work at Kelburn Castle, in Largs, which was painted by Brazilian street artists, had been named as one of the world's best examples of urban art.
But it is to come down after engineers discovered that the cement coating on which it is painted was causing damage to the original castle walls.
Castle owner The Earl of Glasgow had wanted the graffiti to stay.
The mural features a psychedelic series of interwoven cartoons depicting surreal urban culture.
It was completed by Brazilian graffiti artists in 2007 at a cost of £20,000.
The mural was permitted by North Ayrshire Council on the understanding that it was temporary.
A three-year limit was put on the graffiti, pending the start of work to replace the harling render on the exterior of the turret.
But the owner had been fighting to keep the mural for longer.
The castle is located in the grounds of Kelburn Estate, which also houses a country centre open to the public and featuring a series of outdoor attractions.
Last year, the mural was named as one of the world's top 10 examples of street art by author and designer Tristan Manco - on a par with Banksy's work in Los Angeles and the Favela Morro Da Providencia in Rio de Janeiro.
The Earl of Glasgow, Patrick Boyle, whose family has been in Kelburn Castle for 800 years, was said to be devastated that he would have to remove the graffiti.
Related Internet Links
The BBC is not responsible for the content of external sites.