Dog mess to be spray-painted pink by West Dunbartonshire Council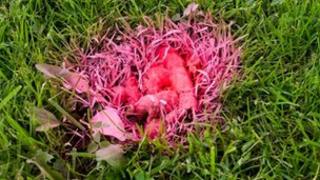 A Scottish council is to spray-paint dog mess bright pink in a bid to shock irresponsible owners into changing their bad habits.
The move by West Dunbartonshire Council is part of a wider campaign to crack down on dog fouling.
Officers will patrol designated dog mess black-spots and use a spray-gun to blast any offending discoveries.
The local authority is thought to be the first in Scotland to take this approach.
It is hoped the scheme will highlight the scale of dog fouling on streets in Clydebank, Dumbarton and Alexandria - and embarrass the owners into clearing up after their pets.
'Make mess obvious'
Council workers, for safety reasons, will still clean away dog mess on pathways but any mess found on grass verges and roads will be spray-painted.
If the "pink poos" are not then subsequently removed by the owner they will be cleared up within a week. The chalk based paint should wash away naturally after several weeks.
Councillor David McBride, convener of housing, environmental and economic development, said: "There are some dog owners who believe that if their dog does its business somewhere discreet or out of sight then it is OK to leave the mess behind.
"This pink spray-paint will make this mess really obvious so the owners get the message that it is disgusting wherever it is left, and that we think they should be picking it up."
The council said it had been working for almost a decade to educate local children and adults about dog fouling, and litter in general.
Councillor McBride added: "Quite frankly anyone who still thinks it is acceptable to leave animal excrement behind on our streets and parks for children to step or fall into probably shouldn't have a dog in the first place."