Plans to limit Orange walk costs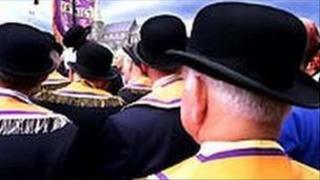 The Scottish government has said it is considering legislation to limit the "huge cost implications" for policing Orange walks.
The marches create "significant issues" for police and politicians, Justice Secretary Kenny MacAskill told MSPs.
But he said it was important any legislation did not limit other "innocuous" organisations such as the Boys' Brigade.
About 300 Orange parades took place last year in Glasgow alone.
Speaking at Holyrood, SNP backbencher Humza Yousaf suggested the cost of policing Glasgow's Orange walks should not come solely from police budgets.
He asked Mr MacAskill: "With almost 300 Orange parades taking place last year in Glasgow alone, during times of financial restraint, doesn't the minister agree that perhaps we need to think of measures whereby the cost of keeping the public safe does not fall solely on civic police?"
Mr Yousaf has previously raised concerns about the review of a ban on Orange walks and other processions playing music outside places of worship such as chapels, synagogues and mosques in Glasgow.
'Right balance'
Answering Mr Yousaf's question, Mr MacAskill recalled the 1,800 officers deployed to police an Apprentice Boys march in 2007 while Strathclyde Police were dealing with the fallout from the terrorist attack on Glasgow Airport.
Mr MacAskill revealed that the cost of policing such marches and parades in Glasgow was discussed with the Association of Scottish Police Superintendents on 19 June and again with Strathclyde Police Assistant Chief Constable Bernard Higgins, in the context of the jubilee weekend marches.
He said: "These are fundamentally matters of balance. We have to ensure, in terms of the legislation, that the Boys' Brigade march and other innocuous matters are not caught when we seek to take action against matters that have huge cost implications.
"Fundamentally, they are for local authorities but we have made it quite clear as an administration: while we recognise the right of individuals, even where we disagree with what they are protesting, to take that opportunity we have to take into account a whole variety of matters including the police."
It is the important to "get the right balance between the right of people to march and demonstrate and the right of communities to be protected and not face significant costs and challenges to their police who have others things to do as well as simply look after the interests and desires of a small minority."
The Apprentice Boys celebrate of the Siege of Derry in 1688-89 when supporters of the Protestant King William of Orange held out against the forces of Catholic King James II.
The Boys' Brigade is an interdenominational Christian youth organisation.