Family plea over murder of Paisley shopkeeper Javaid Ali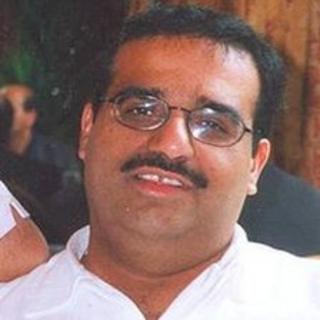 The family of a Paisley shopkeeper who died after being stabbed in his store has appealed for information to help catch his killer.
Javaid Ali, who was married and had three sons, died in hospital two weeks after the attack in his Sunshine Grocers shop in Green Road on 15 June.
In a statement relatives said they were devastated.
They described him as a "wonderful father and husband and a great friend to many."
Police have repeated their appeal for people who were in the area at the time to come forward.
The family statement said: "He was a great provider for his family and everyone who knows him would describe him as an exceptional hard-worker who had great warmth in his heart for those less fortunate.
"He was loved by his friends and family because he was simply just a very nice guy.
"His loss is devastating for us and it will take a very long time for us to accept it. It is the nature of his death that is so traumatic for us to deal with."
Det Ch Insp Duncan Sloan, who is leading the murder inquiry into Mr Ali's death, said he believed information which could help solve the case lay within the local community.
He added: "I have previously appealed for specific people to come forward and I would like to reiterate this appeal as these people have not yet made contact with police."
Detectives are still keen to speak to a driver of a car that stopped outside the shop shortly after the incident. The driver is female, in her 30s with short brown hair.
They also want to trace a man, who was seen walking near the store at about 15:00 on the day of the attack. He was carrying a loaf of bread and he may have stopped to speak to another man who was standing near a public phone box.
Officers are still looking to trace a young woman, aged about 18, wearing an apron and carrying Aldi shopping bags. She was walking in the direction of the cycle track towards Green Road.