Javaid Ali's son appeals over his shopkeeper father's murder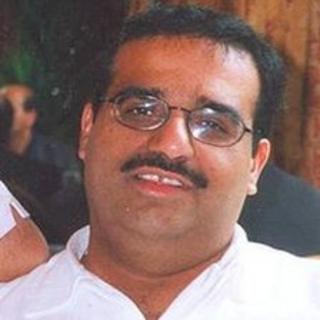 The son of a shopkeeper who died after being stabbed in his store has appealed for help to catch his killer.
Javaid Ali, 48, was stabbed in Sunshine Grocers, Paisley, on 15 June. He died in the Renfrewshire town's Royal Alexandra hospital on 29 June.
Abbas Ali, 25, one of Mr Ali's three sons, read a statement at Strathclyde Police headquarters in Glasgow.
He urged anyone with information to "think of the trauma and hurt" caused to his family and contact police.
The statement read by Mr Ali said: "Our family is absolutely devastated at the loss of my father, Javaid Ali. He was a wonderful father, husband, son and friend.
Family heartbreak
"He meant so much to us and it is heartbreaking to know we will never see or speak to him again. I cannot put into words the suffering this has caused our family and it will take a long time for us to come to terms with what has happened."
Mr Ali said he could not have asked for more from his father whom he described as "an exceptionally hard worker and a great provider for our family".
"He always put our needs first and did his best to provide my brothers and I with opportunities that he did not have when he was younger," he said.
"I was fortunate in that if I ever had a problem or an issue I was able to rely on my dad to simply make things OK.
"Therefore, the brutal manner in which he was taken from us is very difficult to accept. I cannot bear to imagine the pain he might have been in when he was attacked."
Mr Ali said his father "did more than just own a business" and was "an integral part" of the local community.
"He had genuine warmth and kindness towards those who were less fortunate and vulnerable," he said.
"For example, he would regularly deliver groceries to elderly housebound customers and check up on them to make sure they were OK.
"Also, if people did not have the money to pay for their groceries he would happily allow them to take the items and pay for them later."
Strathclyde Police confirmed that officers have spoken to the female driver who was in a car that had stopped outside the shop shortly after the incident.
'Vicious attack'
Detectives are still trying to trace a man who was seen walking from the Sunshine Grocers around 15:00 and a young woman carrying Aldi shopping bags.
The young woman was walking in the direction of the cycle track towards Green Road.
Det Ch Insp Duncan Sloan said: "This was a horrendous, vicious and unprovoked attack on a popular and well respected member of the local community.
"We are still following a number of lines of inquiry and keeping an open mind as we try to establish potential motives for the attack.
"I know that Mr Ali was a popular member of that community and I'm appealing for people in that community to come forward."