Steelworkers memorial set for Ravenscraig site in Motherwell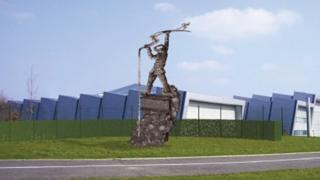 A campaign has been launched to raise £200,000 for a memorial to those who died in Scotland's steel industry.
Organisers aim to erect a large steel sculpture at the former Ravenscraig Steelworks site in Motherwell, North Lanarkshire, next year.
It will show a steel worker holding a ribbon of molten steel - the top of which showing a sprinting athlete to symbolise Lanarkshire's regeneration.
Several hundred Scots are thought to have died in the steelmaking industry.
The fundraising campaign is being run by the Scottish Steelworkers Memorial Fund, which is co-ordinated by Supercounty, the Lanarkshire civic pride campaign.
The fund is chaired by Depute Lieutenant of Lanarkshire, Terry Currie, a former British Steel employee and a founder member of the Supercounty board.
He said: "The iron and steel industry revolutionised the Scottish economy and we plan to erect this memorial to pay tribute to the brave workers who faced grave danger producing the steel which allowed Britain to become the workshop of the world.
"The exact number of people who died in the Scottish steel industry has never been recorded, but the total will amount to several hundred over the decades.
"The memorial is not only in remembrance of those who died, it also honours all the workers who devoted their lives to the Scottish steel industry."
The decision to raise funds for the memorial comes 20 years after the closure of Ravenscraig brought to an end 120 years of bulk steelmaking in Scotland.
The plan is to locate the monument in the paved area in front of the new Ravenscraig Regional Sports Facility.
Discussions have been held with sculptor Andy Scott, who has designed some of Scotland's best known sculptures including the M8 Heavy Horse, Falkirk Helix Water Kelpies and Cumbernauld's Arria.