Edward Johnston jailed over Amarone restaurant bomb threat in Glasgow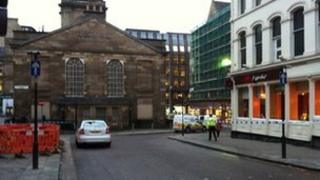 A man who made a bomb threat in a Glasgow restaurant, sparking a lengthy standoff with armed police, has been jailed for 28 months.
Edward Johnston, 38, of Whiston, Merseyside, admitted telling a waiter he had a bomb at Amarone, in Nelson Mandela Place, in February this year.
Armed police and bomb disposal officers cordoned off the Italian restaurant for almost eight hours.
Johnston will also be supervised for a year after his release from prison.
At a previous hearing, Glasgow Sheriff Court heard that Johnston went to the restaurant at about 15:30 on 10 February and ordered two glasses of wine.
Quiet and calm
He then then looked straight at the waiter who served him and said: "I have a bomb under my jacket and I want you to get everyone out."
The waiter told the assistant manager, who asked Johnston if everything was okay.
Johnston told him: "I want everyone out."
The court heard he said it "very quietly, calmly and without any hint of aggression".
A fire alarm was then sounded to evacuate customers and the police were called, arriving about half an hour later.
The restaurant was cleared with the exception of Johnston, who stayed sitting at his table.
The court was told that owner Mario Gizzi arrived at the restaurant and unsuccessfully tried to talk him out of the premises.
Armed police, a Royal Navy bomb disposal unit, fire brigade, an ambulance and police negotiators arrived at the scene to try to end the siege.
A large section of Glasgow city centre was cordoned off causing disruption to traffic, pedestrians and transport, and Buchanan underground station was closed.
Taliban references
During the negotiation Johnston repeatedly said he wanted the police to shoot and kill him.
He threw a fire extinguisher, a plant pot and other items on to the pavement outside the restaurant.
The court was told that Johnston also made various references to the Taliban, the army and Afghanistan and he shouted and swore.
Police decided to move in after armed officers were able to confirm that he was not in possession of any bombs or explosives.
At 23:30 police tried unsuccessfully to subdue Johnston using a stun gun when he stepped outside the restaurant.
The court heard that one barb of the stun gun struck him and the other attached to the plant pot he was carrying.
Seconds later, police rushed Johnston, grabbed him by the shoulders and forced him to the ground, where he was restrained and handcuffed.
He told police he wanted to die and struggled so violently they had to put straps on his legs.
The court was told that five or six years ago Johnston's wife had to have a termination on medical grounds late in her second pregnancy.
This appeared to have had a "traumatic effect" and he struggled to come to terms with what he saw as the decision to end the child's life.
Jailing him for 28 months, Sheriff Alayne Swanson said: "This was a significant, serious incident in Glasgow city centre, which took place over six hours.
"Throughout that time a large part of the city centre was cordoned off, it severely disrupted many people on a Friday night and the disruption to traffic and public transport was significant. The cost to the public purse was considerable."
She added: "I take the view that due to the gravity and seriousness of the offence there is no alternative but to impose a custodial sentence."