Greenock teenager Connor Nicholson aims to become American football Top Gun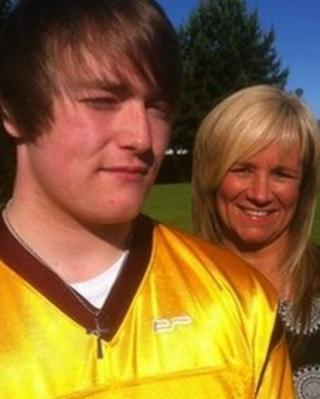 When Connor Nicholson began to lose interest in football and rugby, he started going to watch American football team Inverclyde Phoenix instead.
I suspect that the 16-year-old's change of allegiance may be, in part, down to his parents.
Mum Dorothy is a supporter who head coach Vince Gillen describes as the team's "loudest fan".
In the end the schoolboy started training and playing with the team.
Now, three seasons on, he's off to America for Top Gun - described as an elite training camp, where the best of the best from high school football show off their skills in front of talent spotters from some of the best college teams in the US.
The hope is that it might lead to the offer of a scholarship and then, perhaps, to a professional career in the NFL.
And before you dismiss that as a pipedream, remember Lawrence Tynes.
He's from Greenock too - and earlier this year he won his second Superbowl, with the New York Giants.
Connor told BBC Radio's Good Morning Scotland programme that Tynes' story had been an inspiration.
The hope is that being invited to train in Virginia this summer could help him follow in Tynes' footsteps.
"It's 500 athletes, and 100 different scouts," Connor explained.
"Hopefully I can go to an American college, get a scholarship. From that, hopefully, increase my academics as well as my athletic skills and move on to the professional level."
Head coach Vince Gillen said heading to the States was a "fantastic opportunity" for his protege.
He said Top Gun was equivalent to a football camp attended by Sir Alex Ferguson and all the top Premier League managers and coaches.
"The best coaches in the world are going to be there," he said.
"If he doesn't learn and improve from that coaching, I don't know what.
"It's a unique opportunity, and he thoroughly deserves it. He's been a star for the last two years."
Mum Dorothy said she had no second thoughts about encouraging her son to pursue his ambitions.
She said: "I'll give him full support. We just hope everything works out, and he gets his dream.
"He wants to play at NFL level, and we'll help him and support him all the way there. To get this is a great honour."