Jailed sex crime nurse Andrew Sandford banned from profession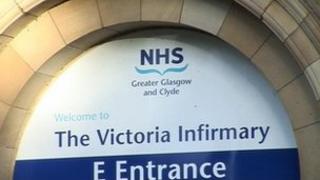 A nurse who was jailed after being caught with 12,270 images of children being sexually abused has been formally banned from the profession.
Andrew Sandford, 37, is serving a 53 month sentence over the haul, which showed children and babies being raped and involved in sex acts with animals.
He downloaded the material on a laptop computer at his home in Glasgow between November 2006 and September 2010.
The Nursing and Midwifery Council banned him at a hearing in London.
During his trial last year, the High Court in Edinburgh heard how Sandford worked as a geriatric nurse at Glasgow's Victoria Infirmary.
'Truly horrific'
He was caught after Strathclyde Police received intelligence that he had accessed a website with indecent images of children via the internet from his former family home in Barrhead, East Renfrewshire.
Sandford was arrested while on duty at the hospital in September 2010.
Sentencing Sandford in June 2011, Lord Turnbull said the downloaded images were "visual records of the actual and truly horrific sexual abuse and rape of children and babies by adults".
The Nursing and Midwifery Council has now banned Sandford from ever working in the nursing profession again following a disciplinary hearing in London.
The nursing body found that Sandford's actions caused "concerns over his ability to practice safely around children and young people".
It also found the nurse's "conviction brings the profession into disrepute" and that "public confidence in the profession and the maintenance of proper standards would be undermined if a finding of impairment were not made in this case".
The disciplinary panel stated: "In the circumstances, the panel has concluded that the only sufficient and proportionate sanction is to direct the registrar to strike Mr Sandford's name from the register.
"The panel considers a striking-off order is necessary in order to protect the public, to uphold proper professional standards and to maintain confidence in the nursing profession and the Nursing and Midwifery Council."