Inspectors intervene during Wishaw General Hospital visit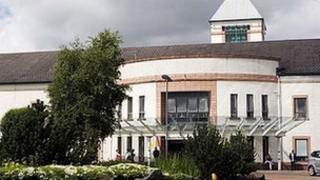 A hospital in North Lanarkshire has been criticised after inspectors had to intervene to help two patients during an official evaluation visit.
The patients at Wishaw General required help with their meals but had been left alone by ward staff.
The inspection visit also highlighted other areas for improvement such as mental health screening.
NHS Lanarkshire said it had made a number of improvements since two visits by inspectors earlier this year.
Healthcare Improvement Scotland carried out an announced inspection at Wishaw General in May and an unannounced follow-up in June.
'No explanation'
The watchdog's subsequent report noted that during the second visit, inspectors had to intervene and help two patients on one ward.
The report said: "We observed a nurse starting to assist a patient with their meal. The staff member then left the patient mid-way through their meal with no explanation given to the patient.
"We heard the staff member tell a colleague they were going on a break. The patient was then observed trying to eat their soup with a fork.
"Some of the soup spilled over the patient and the bowl of soup almost spilled over the patient. We intervened and asked nursing staff to help the patient."
The report also said that inspectors observed that another patient being left to eat their lunch for 90 minutes.
It said: "There was no provision made to keep the food warm during this time.
"Although the patient did not require help with eating, we did not observe any staff checking on the patient throughout this time.
"However, we noted that the patient appeared to struggle to take lids off meals. We intervened and asked nursing staff to help the patient."
Elsewhere, the report notes that that staff were not consistently following national guidance on "do not attempt cardiopulmonary resuscitation".
Inspectors found "an inconsistent approach to mental health screening and assessment across the hospital".
Meal concerns
They also noted "a gap of 15 to 16 hours between patients receiving their evening meal and breakfast the following morning".
The inspection report, however, did note areas well the hospital was performing well in relation to the care of older people and the support of carers.
Rosemary Lyness, NHS Lanarkshire's director of nursing and midwifery said: "The inspectors highlighted some of Wishaw General's key strengths in providing a high standard of care to older people.
"We are continually improving the level of care we provide to older people and the report includes valuable feedback to help us achieve this.
"A wide range of actions to benefit patients are already being taken forward through a detailed plan that addresses areas for improvement found by the inspectors during their visits."