London 2012: Scots G4S Olympic security manager resigns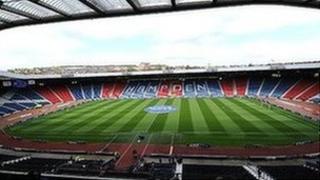 A senior manager has resigned from G4S in Scotland because of the crisis over recruiting security guards for the Olympics, BBC Scotland has learned.
The duty security manager, who has not been named by G4S, held an "overview" role, looking after security at Hampden stadium and the team hotels.
Games organiser Locog said he "felt the situation was becoming intolerable".
The departure came as Strathclyde Police took control of security at Olympic venues in Scotland.
G4S claimed the loss of the individual employee has not affected security.
A spokesman said: "The employee in question is not the head of security in Glasgow but he is one of a number of duty managers on the roster.
"As far as we're aware, the person has not formally resigned and security at venues has not been compromised.
"There have been some internal issues but we are hoping to resolve these in the next 24 hours."
Eight football matches for the London 2012 Olympics are to be played at Hampden Stadium in Glasgow, beginning on Wednesday - two days before the Olympic opening ceremony.
Scotland's largest police force confirmed last week it would deploy extra officers.
Increasingly difficult
It does not envisage troops will be needed to bolster security.
G4S has been under fire since it emerged last week that 3,500 military personnel would have to be deployed to meet the firm's shortfall in trained security guards for the Games in London.
Earlier this week, the chief executive of G4S, Nick Buckles, said he regretted ever taking on the Olympic security contract and, under questioning from MPs, he said he could not disagree that it had become a "humiliating shambles".
Locog's head of venue security in Scotland, Kenny Graham, said: "His main reason was frustration at being asked to do an extremely difficult job with very limited resources.
"From a security perspective it was becoming increasingly difficult to put a security operation in place."
He added: "G4S did not deliver on the numbers that we required and that culminated in yesterday's statement from Strathclyde Police that they would, with immediate effect, take primacy for the security operation at Hampden Park."
Mr Graham said: "G4S are a massive organisation and, for whatever reason, they have failed to deliver on their contractual obligations.
"I know this has been addressed at ministerial level and hopefully, come Games time, that matter will be resolved."