Philip Tartaglia appointed new Archbishop of Glasgow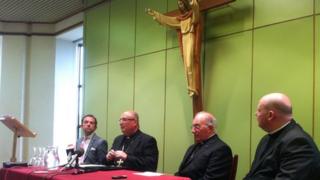 The Roman Catholic Bishop of Paisley Philip Tartaglia has been appointed as the new Archbishop of Glasgow.
He takes over from Archbishop Mario Conti, 78, who served in the position for 10 years.
The 61-year-old has been a leading opponent of proposals to legalise same-sex marriage in Scotland.
Archbishop-designate Tartaglia was ordained in 1975 and become a bishop in 2005. He will be installed at St Andrew's Cathedral on 8 September.
Following his appointment by Pope Benedict, Archbishop-designate Tartaglia said: "I am conscious of the historic place of the Archdiocese of Glasgow in the history of Christianity in Scotland and of its importance for the Catholic community in particular.
"It is a great honour for me to be appointed Archbishop of my native city and diocese."
Archbishop-designate Tartaglia said he had been "very happy and fulfilled" as Bishop of Paisley.
He said: "I have loved my diocese. The priests and people of the Diocese of Paisley will always be in my heart.
"I would want to serve the Archdiocese of Glasgow with the same affection and devotion."
The Archbishop-designate added: "I know I can only be a good bishop with help from above, so I ask everyone to pray for me."
His predecessor, Archbishop Conti, was appointed in 2002, following the death of Cardinal Thomas Winning the previous year.
Bishops tend their resignation at 75, which Archbishop Conti did in 2009. He was asked to stay on and was the second oldest serving Bishop in Europe.
Archbishop Conti said he was "delighted that the Holy Father has appointed Bishop Philip" as his successor.
"I have known him for more than 30 years and I have the greatest admiration for his gifts of leadership, intelligence and pastoral sensitivity," he said.
"The Archdiocese will be in very good hands.
'Endeared himself'
"I hope to remain of service to the people of the Archdiocese and I will place myself at the service of my successor to assist him in whatever way he may wish in the life of the Church in Glasgow."
The Papal appointment was also welcomed by Britain's most senior Roman Catholic, Cardinal Keith O'Brien.
He said: "The successor appointed to Archbishop Conti - Bishop Philip Tartaglia, Bishop of Paisley - has greatly endeared himself to the priests and people of his own diocese.
"I am sure that while they deeply regret his move from Paisley, they will also be happy to know that he will be able to continue his heavy responsibilities in the larger Archdiocese."