Elizabeth McGaw's death not caused by lack of oral care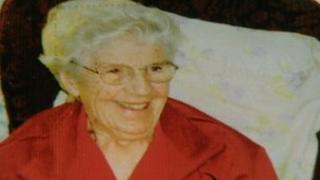 A fatal accident inquiry has found that an elderly woman's death - following surgery to remove an embedded denture - was not caused by a lack of oral care.
Elizabeth McGaw, 87, died in February 2007 after the procedure at the Southern General Hospital in Glasgow.
A post-mortem examination later showed the cause of her death to be heart disease and dementia.
Following an inquiry, Sheriff Bill Totten said he was not convinced by any evidence to amend those findings.
The inquiry at Glasgow Sheriff Court heard how Mrs McGaw, who was known as Betty, was admitted to hospital from Heatherbank care home, Balornock, in December 2006.
Tongue discoloured
She had swelling from her chin to her chest spread across her throat, and she was not allowing anyone to feed her.
Mrs McGaw's daughter Sylvia Miller told the hearing that for a couple of months leading up to her mother's hospital admission she noticed her teeth and tongue were discoloured.
She said she raised her concerns with care home staff, but was told it was the tablets her mother was taking.
The grandmother's top denture was discovered in her mouth on 27 December 2006 when it was unknown how long it had been there for.
The following day Mrs McGaw was admitted to the Southern General where she subsequently had her top denture removed from her mouth and was fed some soup.
Mrs Miller said it was "wonderful" that she had some soup but that she then refused to have anyone go near her again and would not eat.
The inquiry was told that following the removal of the denture, Mrs McGaw was given fluids through her arm and ankle and eventually her side before she passed away.
A post-mortem examination concluded she died from heart disease and dementia.
In a written judgement, Sheriff Totten said: "In my view the evidence did not establish any basis to amend those findings.
"Nor did the evidence establish that death resulted from any act, omission, failure or other accident during the time she was in Heatherbank care home or Southern General Hospital.
"In particular the evidence did not establish that any lack of oral care of Mrs McGaw contributed to her death."