'Boat homicide' charge dismissed over Garry Henaghan's death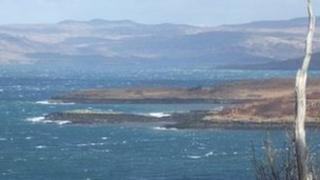 A Northumberland man has been cleared of killing his friend in a boating accident.
Jason Robinson, 44, from Cramlington, was at the controls of the boat when it ran aground on Calve Island, Tobermory Bay, on 19 May 2009.
Garry Henaghan, 44, died after being thrown from the vessel.
Mr Robinson stood trial before a jury on a charge of culpable homicide, but a judge ruled there was insufficient evidence to convict him.
The High Court in Glasgow heard Mr Robinson and Mr Henaghan - along with Mr Robinson's brother Wayne, and another man called John Binney - had been on a diving and fishing trip, staying in Lochaline, Argyll and Bute.
'Not comfortable'
They had taken a rigid inflatable boat with them that Mr Robinson and his brother had previously purchased.
On 18 May 2009 - the day of the accident - the four had sailed into Tobermory, where they visited a bar.
A jury was told roofing contractor Mr Robinson, of Cramlington, Northumberland, drank lager at the pub.
The men eventually headed towards their base, with Mr Robinson at the controls of the boat.
Wayne Robinson told the court there had then been an "an almighty bang" as the boat ran aground on the uninhabited Calve Island in Tobermory Bay.
Mr Henaghan was found lying on nearby rocks suffering from severe injuries that he never recovered from.
The Crown sought to prove a number of allegations in respect of the culpable homicide charge.
This included a claim that Mr Robinson was under the influence of alcohol at the time to the extent his ability to navigate was impaired.
No case
It was also alleged he had gone at excessive speeds for the prevailing conditions.
His brother - who was also hurt after the crash - denied during the trial that Mr Robinson had been drunk.
The witness also said he guessed the speed of the boat had been approximately 15 mph at the time.
Mark Moir, defending, argued Mr Robinson had no case to answer following three days of prosecution evidence.
Temporary judge Rita Rae QC agreed that the charge should be dismissed and told jurors: "I have decided there is insufficient evidence in law to allow such a charge to be considered by a jury."
Prosecutor Jonathan Brodie QC said the Crown would not be appealing her decision.