Jura islanders in web search for new GP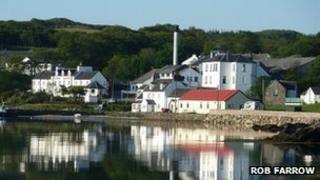 Residents of Jura in the Inner Hebrides have launched an internet campaign to find a new doctor for the island.
The 200 islanders want a resident GP, but adverts placed in medical journals failed to attract any candidates.
They have now launched a Facebook campaign and are offering discounted accommodation and ferry travel to anyone who is interested in the post.
And they have promised a bottle of Jura whisky as a finder's fee to anyone who helps them land the right candidate.
Jura boasts picturesque beaches, an abundance of wildlife, a bar, shop and even a world-famous whisky distillery.
But it has been without a permanent GP for more than a year, and has had to rely on locum cover.
Changing tyres
The island's remoteness off the west coast of Scotland means the doctor is permanently on call and has to do everything.
The first task for the last full-time GP was to change the tyre on the island's ambulance.
But the role of GPs elsewhere in the UK is now very different, and that is making it difficult for remote places like Jura to find doctors willing, and able, to step back in time.
Rob Tigeir, Jura's local development officer, moved to the island from the Scottish mainland and is involved in the massive effort to find a doctor willing to do the same.
He told BBC Scotland: "It's important that when we go to see a doctor more than once for a complaint that it's the same doctor.
"We don't want to have to explain our complaints again and again. Over the last year we've had to explain our complaints many, many times. The locums are very good but we need that consistency. We need a doctor to see the patterns and provide continuing care."
Willie MacDonald, who is Jura's estate manager and the island's community council chairman, added: "I still feel there are doctors out there who just want to be doctors working within relatively small communities covering 24/7 and being part of the community.
"You've got a beautiful location. It's a friendly place to live. The lifestyle's good. The schooling's good. There's no crime, as such. People are very laid back in comparison to what you'd have in a city environment."
Residents have been here before. In 2005 the local health board advertised the position twice, with no applicants.
So residents placed their own adverts - and attracted 132 inquiries from all over the world. But the GP who got the job had to leave to look after an elderly relative.