Three men deny Ruchazie park murder of William Faulds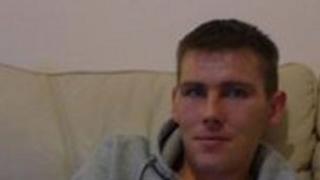 Three men have gone on trial accused of murdering a man at a bonfire night gathering in a Glasgow park.
William Faulds, 31, died from multiple stab wounds after being attacked at Hogganfield Park, near Bigton Street, Ruchazie, on 5 November 2011.
At the High Court in Glasgow, Steven Evans, 28, Christopher Harrison, 20, and Daniel Harrison, 16, deny murder.
A fourth accused Edward Harrison, 27, was cleared after prosecutors withdrew the charge against him.
The court was told that Mr Faulds, who was from Millerston in the north of the city, was attacked by four masked men in the park and fell to the ground dying.
Girlfriend argument
He was taken to Glasgow Royal Infirmary but died a short time later.
In evidence, Mr Evans admitted that he had been at the bonfire night with his partner and children but said he did not kill Mr Faulds.
He told the court that his family left the bonfire before him, then he went to his friend's house and had something to eat.
The accused said he then went home where he had an argument with his girlfriend and she left to go to her mother's house and he took his dog before going out with Christopher Harrison and another man in a car.
His defence QC Gordon Jackson asked what happened when he got in the car.
Mr Evans said they started driving before he fell asleep.
He said he heard no conversation about the murder of Mr Faulds.
Mr Jackson put to his client: "You didn't do it?" Mr Evans replied: "I didn't do it at all."
Earlier the court heard that Mr Faulds died from a stab wound which sliced his heart and caused massive bleeding.
He had nine other wounds, four on his back and the rest on his chest.
Pathologist Dr Ian Wilkinson was asked by prosecutor Paul Kearney: "Is there a possibility that more than one knife was used?" He replied: "Yes that is possible."
Dr Wilkinson told the court that substantial force must have been used for at least two of the stab wounds.
The trial before judge Lord Bonomy continues.