A83 Rest and Be Thankful reopens after landslip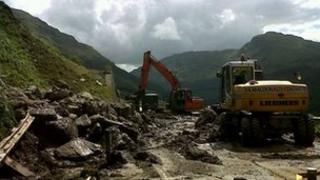 A landslip-hit stretch of road in Argyll has reopened after being shut since Wednesday.
Workers have been clearing 1,000 tonnes of debris from the Rest and Be Thankful section of the A83 after a series of landslips.
Meanwhile, the Scottish government has been trying to deal with concerns from local politicians and businesses that the local economy is suffering.
Landslips have closed the Rest and Be Thankful five times in five years.
A long diversion - running via the A83, A819, A85 and A82 and adding up to 50 miles to some journeys - was put in place following the landslide earlier in the week.
The closed section of road has been reopened using a single lane, controlled by traffic lights.
The Scottish government's infrastructure secretary, Alex Neil, who met Argyll business leaders and politicians, said progress with solving the landslide problem would be monitored by a new task force.
He said: "Having met and spoken to local business owners, community representatives and councillors today, I fully appreciate their frustration at the ongoing disruption to the local economy, especially at such an important time of the tourist season.
"We have already allocated significant funding to tackle the problem and, weather permitting, and if we can finalise a deal with private landowners, work will get underway on the emergency route in the coming weeks.
"And at around the same time, we will extend the length of debris flow netting on the hillside, which will also result in a lifting of the current traffic restrictions."
Complex process
David Middleton, chief executive of agency Transport Scotland, added: "The design team and project managers are fully committed to delivering a safe solution in as short a time scale as possible.
"However, clearly feasibility studies, design work for HGVs, environmental assessments, engaging with landowners, testing and detailed planning for what is effectively a new trunk road are complex processes."
The Scottish government said more than £16m had been invested in the maintenance of the trunk road section of the A83 in recent years.
Work is also due to start at the end of August on a diversion route along the nearby old military road, which will take 12 weeks and cost £1.5m.