Hampden Olympic memorabilia given to Yorkhill Sick Kids Hospital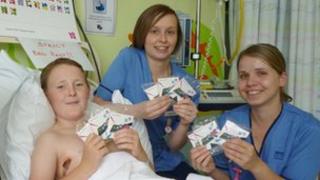 Promotional items for the eight Olympic football matches played at Hampden Park in Glasgow have been donated to the city's sick children's hospital.
Hundreds of badges and posters were given to patients, parents and staff at Yorkhill Hospital to provide a "morale boost" during the games.
The hospital said the gifts had proved a "welcome distraction from the patients' treatments and operations".
The eight Olympic matches were played at Hampden from 25 July to 3 August.
'Truly inspirational'
Yorkhill Children's Foundation director of fundraising, David Welch, said: "There has been a huge amount of excitement surrounding Team GB and London 2012 in the hospital.
"The children have been glued to their television screens and cheering on their favourite sports stars since the competition started.
"The Team GB performance has been truly inspirational to children in Yorkhill and the generous donation has provided the patients and their families with the opportunity to join in with the Olympic experience and generate a real morale boost."
Neal Palk, workforce manager with the games organisers, added: "We wanted to give the mementoes to Yorkhill Children's Foundation as we are aware of the fantastic work it does helping support and treat children from all over Scotland.
"We hope these badges will keep the legacy of the games going for many years to come and help inspire and motivate these children so maybe one day they will be a part of Team GB."