Andrew Barrie's body found in Canada after waterfall death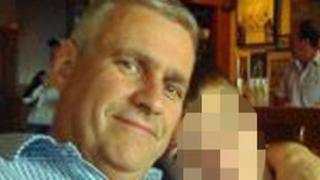 Authorities in Canada have recovered the body of a Scottish holidaymaker who died after being swept over a waterfall with two others in British Columbia.
Andrew Barrie, 50, from Alexandria, West Dunbartonshire, died while white water rafting on the Kettle River, near Grand Forks, on 28 June.
He was on holiday at the time with his wife Carol and 16-year-old son Andrew.
The bodies of two elderly local people, who were swept away with Mr Barrie, were found last week.
A statement from emergency services in Canada said: "On Monday afternoon 6 August 2012, Grand Forks Search and Rescue and Christina Lake Fire Department were able to successfully recover a body from the Cascade Cove area of the Kettle River, near Grand Forks.
'Great sadness'
"The body has been positively identified as the missing 50-year-old male visitor from Scotland.
"He is the last of the three people to be recovered following the July 28th rafting incident."
In a statement issued last week through the UK Foreign Office, Mr Barrie's family spoke of their "great sadness and grief" following the accident.
The statement said: "What had started as a beautiful, peaceful float on the river, with friends who knew the river well, turned to tragedy with the loss of three lives."
The bodies of Ronald Legare, 74, and his 71-year-old wife, Jean, were recovered shortly after the accident.
The couple, from nearby Lake Christina, were thought to be part of a group of 13, including Mr Barrie, which was tubing and rafting.
Witnesses spoke of seeing three people being swept over the waterfall after their crafts capsized.
The stretch of the river where the accident happened was said to be "treacherous with strong currents" following a period of heavy rain.