Olympic 'bounce' for Glasgow 2014 Commonwealth Games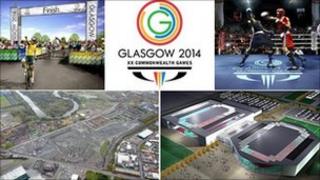 Interest in Glasgow's 2014 Commonwealth Games has surged due to the London Olympics, a new survey has suggested.
The online study questioned 1,131 adults, aged 16 and over, about their interest and awareness of both events.
Respondents saying they planned to buy tickets for Glasgow 2014 rose from 14%, in the last survey in March, to 29%.
Some 78% said the 2014 Games would positively affect Glasgow and Scotland, with 41% saying the London Olympics had increased excitement about 2014.
The study also shows an upturn in interest from women, with 45% saying they were more excited about Glasgow 2014 after watching or hearing about London 2012.
London 'magic'
Speaking in London, Glasgow 2014 chief executive David Grevemberg said: "No one experiencing the excitement and magic of London 2012 can fail to be inspired by the dedication and drive of the athletes, the massive support of the crowd and the absolute warmth and enthusiasm of the army of volunteers.
"Seeing London 2012 in action, we just can't wait for our own moment to shine in two years' time.
"Already we're seeing and feeling the positive impact of London 2012 inspiring and motivating people to look forward to Glasgow 2014."
Sport Minister Shona Robison added: "Over the past 10 days, our Olympians have demonstrated the most fantastic skill, drama, excitement and achievement.
"Scotland's members of Team GB are contributing spectacularly to our success.
"So, it is no surprise that this research shows that Team GB's amazing performances and growing medal haul are increasing people's interest in the upcoming Commonwealth Games, and that more and more people now want to attend."