Javaid Ali Paisley murder police to use ad trailer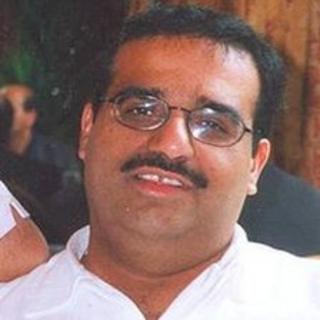 Police investigating the murder of a Renfrewshire shopkeeper are to deploy an advertising trailer at retail parks in a bid to find his killer.
Javaid Ali, 48, was stabbed in Sunshine Grocers, Paisley, on 15 June. He died in hospital on 29 June.
Over the next few weeks, an ad trailer will be located at Phoenix Retail Park, Paisley, and Braehead Shopping Centre.
It will also remind people there is a £50,000 reward for information leading to an arrest or conviction.
The reward has been offered by Crimestoppers and the Association of Convenience Stores and Scottish Grocers Federation.
Det Supt Bobby Hendren, of Strathclyde Police, said: "We have received a positive response from the local community throughout this investigation.
"I know many people were deeply shocked by what happened, however we have still to establish a motive for the attack and trace whoever is responsible for the murder of Mr Ali and I believe the answer lies locally.
'Local rumour'
"We have received a lot of information from the public, a small amount of which I would describe as local rumour and I want to assure people that we have fully investigated these lines of inquiry."
Det Supt Hendren said "any small detail could prove vital" to the investigation.
"There may be reasons why people have not come forward and I would like to take this opportunity to point out that a well-known, hard working, family man has been murdered and his family has been left devastated trying to come to terms with his death," he said.
"I remain very keen to trace people who were in the Sunshine Grocers on the day of the attack - there are a number of till transactions and we have yet to trace some of those people, so, I would like to appeal directly to anyone who was in the store, who has not contacted police yet, to please get in touch."
The detective said the investigation remained "a top priority" with the force and had a "team of more than 60 dedicated officers".
He added: "More than 800 statements have been taken and over 700 homes have been visited as part of door-to-door inquiries."
Officers have also distributed more than 4,000 leaflets and placed posters in various locations throughout the Renfrewshire area.
Last month, Mr Ali's murder was also the subject of an appeal on the BBC's Crimewatch programme.