Andrew Wyper posted racist abuse on Evan Mohammed campaign page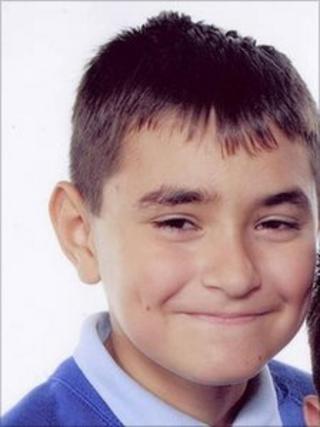 A man has been fined £100 for posting racist abuse on an internet page set up in memory of a nine-year-old boy who died in a house fire in Kilmarnock.
Andrew Wyper, 26, posted comments on a Facebook campaign dedicated to raising funds for the family of Evan Mohammed.
At Kilmarnock Sheriff Court, he admitted abusive behaviour likely to place others in fear and alarm, aggravated by racial prejudice.
Wyper was cleared of harassing campaign organiser Jane Mulrainey.
The 26-year-old, from Galston, posted the racially offensive messages at an address in Kilmarnock, East Ayrshire, on 30 January.
The fundraising campaign on Facebook was launched after Evan died in a fire at his home in December last year.
The fire is thought to have been caused by a faulty fibre optic Christmas tree in the youngster's bedroom.
Evan's mother Sheree McGill escaped from the house then tried to get back in to rescue Evan and her two younger daughters, but was held back by neighbours.
All three children were removed by firefighters and taken to hospital, where Evan died.
Another of Ms McGill's children was staying at his grandmother's house at the time of the fire.