Glasgow to host Scottish Olympic parade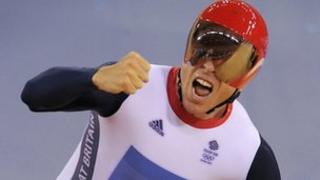 The official victory parade for Scotland's Olympians will be held in Glasgow on Friday 14 September, it has been confirmed.
SportScotland said the event would be a "fitting and appropriate celebration" for all Scottish Olympians and Paralympians.
Scottish athletes won a record 13 medals at the London Games.
They included Sir Chris Hoy, who won two gold medals to become Britain's most successful Olympian.
More details and the route of the parade will be announced nearer the time.
Edinburgh's Lord Provost Donald Wilson said he was "disappointed" the parade would not be held in the Scottish capital.
He said Edinburgh still planned to welcome home its own Olympians and Paralympians "to show them how proud we are of their achievements".
The parade in Glasgow will be followed by a reception hosted by the first minister and city council.
British Olympic Association chairman Lord Moynihan is expected to attend alongside SportScotland chair Louise Martin.
A spokesman for SportScotland, which will organise the parade alongside the city council, said: "There are some compelling reasons for it being in Glasgow.
"It is bidding for the 2018 Youth Olympic Games and there is also a symbolic transfer of the London Games, post Paralympics, on to Glasgow for the Commonwealth Games.
"I would imagine other local authorities may also want to celebrate athletes from their own areas in their own ways and I understand that that is likely to happen across Scotland."
Scotland's minister for sport, Shona Robison, said the parade would give the country the opportunity to recognise and celebrate the "remarkable achievements" of Scottish athletes who competed in the Olympics, as well as those who will be participating in the Paralympics later this month.
She added: "Here in Scotland, we have played our part in these great Games, from hosting football matches at Hampden Park to the hundreds of volunteers that went to London to help out at Olympic Park.
"As we celebrate these successes we must also look ahead to Glasgow 2014.
"I have great hopes and aspirations for Scotland's athletes in the Commonwealth Games and I hope people will take inspiration from these medal winners."
Andy Hunt, chief executive of the British Olympic Association and Chef de Mission for Team GB, said: "Scottish athletes contributed 13 medals to Team GB and deserve to be celebrated in style.
"No-one more so than Sir Chris Hoy, who became the most decorated British Olympian of all time by securing another two gold medals at the London 2012 Olympic Games, surpassing Sir Steve Redgrave's total of five gold medals.
"Every member of Team GB has inspired a new generation to take up sport and we hope that with Glasgow bidding for the 2018 Youth Olympic Games, this will continue."
The record-breaking medal haul by Scottish athletes in London included seven gold, four silver and two bronze medals.
The seven golds equalled the best ever return for Scots, achieved 100 years ago at the Stockholm Games.
However, the total of 13 medals comfortably surpassed the previous best of nine, which was achieved at London 1908, Stockholm 1912, and Sydney 2000.