Manson and Kray letters sell for £600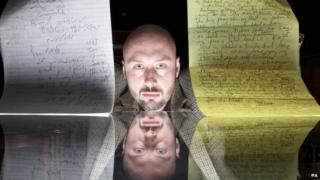 Letters from London gangster Reggie Kray and US cult leader Charles Manson have sold for £600 at auction in Glasgow.
The items were put up for sale by 'murderabilia' collector and crime author Steven F Scouller.
The Kray letter sold for £200, while the one from Manson made £400 at McTear's Auctioneers.
Mr Scouller said he believed the items could give an insight into the criminal mind.
'Firm' orders
The letter from Reggie Kray, who terrorised the east end of London with his twin Ronnie in the 1950s and 60s, is a 20-page diary of ideas and orders for 'Kray Firm' gang members to carry out.
Mr Scouller said parts of the letter were written in code to prevent the authorities from intercepting the messages.
In the letter Kray writes: "Go to work for the fee. I'm so proud of all you've achieved."
It is signed off at the bottom with: "Take care, God bless, affection, yours Reg."
The Kray twins were jailed in 1969 for 30 years, Ronnie Kray for the murder of George Cornell and Reggie for killing Jack 'The Hat' McVitie.
Ronnie died from a heart attack in Broadmoor top-security hospital in 1995 and Reggie died in 2000 from cancer.
Cult members
Charles Manson remains in Corcoran State Prison in California at the age of 77.
He has also been in jail since 1969 after he orchestrated a series of gruesome murders on consecutive nights in Los Angeles.
McTear's said his letter was "incoherent" but seems to discuss his relationship with other cult members.
Manson wrote: "It can be used as the people in the so-called Family used me; by giving me their problems...all I did was give them the answers...You see them singing my music and dancing my motions.
"That's how I've survived all my life by staying on top of my end."