Snake found coiled round lamppost in Glasgow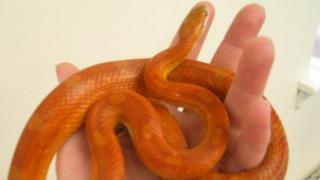 A snake has been rescued after it was found coiled around a lamppost in the south side of Glasgow at the weekend.
Local people contained the rat snake in a pillow case after spotting it in Hollybrook Street, in the city's Govanhill area, on Saturday.
They called in the Scottish SPCA, which is caring for the snake at its animal rescue and rehoming centre in Glasgow.
Staff at the charity's centre in Cardonald have named the reptile Lumiere, which means light in French.
Scottish SPCA inspector, Jennifer Connolly, said: "The woman who alerted us to Lumiere was pretty shaken up by her discovery.
"It's not every day you find a snake outside your house, so it's understandable she got a fright.
"Someone else contained Lumiere inside a pillow case until I arrived because the lady wouldn't go near him."
Ms Connolly added: "Although it was really warm on Saturday, snakes need heat and once the temperature dropped in the evening he wouldn't have survived for long."
The charity also said it had rescued a horsefield tortoise which a woman spotted between two parked cars outside her home in Dornal Avenue, in Glasgow's Yoker area.
Rescue staff have named the reptile Bolt, after Olympic gold-medal winning sprinter Usain Bolt.
Animal rescue officer Ashley Griffin said: "We're so glad Bolt was found as he could easily have been injured or even killed if the cars had moved.
"He's a really healthy and happy wee guy, so it certainly seems he's a much-loved pet who's decided to go for a wander in the sunshine.
"The street Bolt was found on is part of a large residential area, so it's quite possible his owner lives nearby."
Bolt is also being cared for at the charity's Glasgow animal rescue and rehoming centre.
Anyone who recognises either creature is asked to contact the Scottish SPCA.