James Simpson's widow recalls husband's death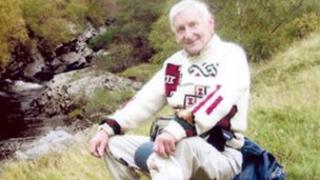 The widow of a man who was allegedly murdered with his own car in South Lanarkshire has told a court that she "will never forget" the night he died.
Minnie Simpson, 73, said her husband James, 76, had tried to stop someone stealing their car from outside their home in Ashgill on 29 November 2011.
She said she had been screaming as he lay "just staring" after being "whirled around and around" by the Land Rover.
Christopher Grenfell, 25, denies murder.
The jury at the High Court in Glasgow heard how the Simpsons had been at their home in Graham Place, Ashgill, on the night of the incident.
'Fast mover'
Mrs Simpson said they were suddenly interrupted from watching television by glass being smashed.
She went on: "My husband immediately got up - he was a very fast mover - and he shouted: 'They are stealing the car'.
"He was down the stairs in about a second flat."
The retired teacher told prosecutor Andrew Stewart QC how Mr Simpson got outside by "vaulting" through the gap in the front door where the glass had been.
He then raced to his Land Rover Discovery and opened the driver's door to try and prevent it being stolen.
Mrs Simpson recalled shouting at her husband to "come back and leave it".
She added: "A great relief went through me when I saw the car then going up the road. I was then very astonished when the car stopped suddenly and I went into despair when it reversed back to where it had been."
Mrs Simpson said she remembered her husband was "whirled around and around".
She told the trial: "I shouted stop, but no-one was listening."
The court heard the Land Rover "went like a bullet" away from the scene before Mrs Simpson went to her husband's aid.
He was "half on the pavement and half on the road" near to his home.
'Screaming and screaming'
The witness told the jury: "I said: 'You will be alright, Jimmy', but he was not looking at me. He was just staring.
"I was shouting: 'Help me somebody, help'. My neighbour, who is a doctor, came out and took his pulse. I was there screaming and screaming."
Mr Grenfell's QC, Ian Duguid, later challenged Mrs Simpson's account of what happened that night.
But Mrs Simpson said: "I will never forget it as long as I live. It flashes before my eyes and I cannot get to sleep because of it."
Mr Duguid said her memory could be "blurred", but she replied: "Not a chance."
The court also heard from retired GP Dr Donald Hopkins.
The 76-year-old neighbour of Mr Simpson ran out to help after hearing a bump and hearing a woman scream.
He said that there was a body lying on the road and even though it was his neighbour he did not recognise him.
Dr Hopkins said the man's face was covered in blood and he tried to keep his airways open.
He added: "His pulse was steadily getting weaker and weaker and he was breathing less. And I thought I was going to lose him.
'Dishevelled and screaming'
"About two or three minutes before the police arrived, he died."
Mr Hopkins said he thought the man had initially been attacked, due to the "state" he was in.
Under cross-examination he was asked what Mrs Simpson was like and replied: "Frantic and at times hysterical."
Dr Hopkins said he did not recognise Mrs Simpson either and added: "She is normally a well-groomed quiet person and this was a woman who was dishevelled and screaming."
Mr Grenfell's co-accused William MacVicar - who does not face the murder allegation - is accused of acting with Mr Grenfell and others to conspire to carry out car thefts.
It is alleged that they broke into Mr Simpson's home and stole a set of keys before taking the Land Rover.
Mr Grenfell and Mr MacVicar, 24, are also charged with attempting to defeat the ends of justice.
The trial, before Judge Lord Burns, continues.