Glasgow Fort shopping centre in £9m expansion plan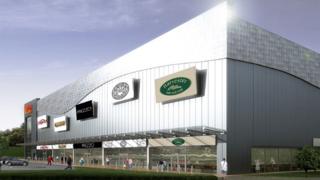 An eight-screen cinema and five new restaurants are to be added to one of Glasgow's largest shopping centres.
The 45,000 sq ft expansion is expected to create up to 200 new jobs at the Fort shopping centre, located off the M8 near Easterhouse.
The £9m project, which could create 250 construction jobs, will start next week with opening set for summer 2013.
It will add a Vue cinema complex, TGI Friday, Pizza Express, Harvester, Chiquito Mexican and Prezzo Italian.
Local jobs
Centre manager Phil Goodman said: "We are absolutely delighted that the leisure development will soon be underway and we can look forward to an important and major extension to the park's offering by next summer.
"Glasgow Fort shopping park, as well as a wide range of retail outlets, already has a number of restaurants and cafes which are very popular.
"By adding a cinema and more big restaurant names to the mix, the park will have even more to offer to our customers."
The Fort opened in 2004 and currently employs about 2,000 people across some 90 retailers.
About two thirds of employees come from the local area, which had traditionally been an area of high unemployment in Glasgow's east end.
Mr Goodman said the Fort would work with the Glasgow Regeneration Agency (GRA) to help local people secure jobs.
GRA chief executive Calum Graham said: "This announcement of a new cinema and leisure facilities at Glasgow Fort is excellent news for residents, who are facing major challenges in accessing the labour market.
"GRA is delighted to be working with Glasgow Fort to offer fantastic employment and training opportunities at the new development to so many people."