Nasserdine Menni jailed for seven years for funding Stockholm bomb attack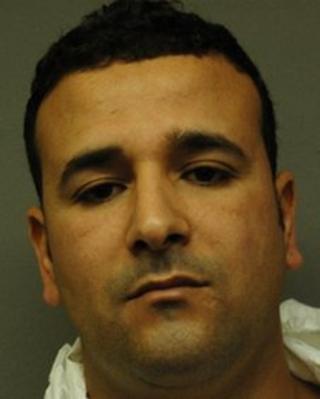 A Glasgow-based asylum seeker has been jailed for seven years for helping to fund a terror attack in Sweden.
Algerian Nasserdine Menni was found guilty of supplying money to Taimour Abdulwahab to help fund the suicide bombing in Stockholm in 2010.
Abdulwahab, an Iraqi-born Swedish citizen, targeted shoppers on 11 December 2010. Two passers-by were injured when he blew himself up.
Menni will be deported after he has served his sentence.
He had earlier been found not proven of a conspiracy to murder charge, following a trial at the High Court in Glasgow.
During the 11-week trial, the court heard how Abdulwahab intended to kill himself and others on the busy pre Christmas shopping streets of Stockholm.
He bought a second hand Audi car and packed it with petrol canisters, gas cylinders, and a "pressure cooker" type bomb which was filled with nails, ball bearings and explosives. Despite setting fire to the vehicle, Abdulwahab failed to detonate the devices inside.
Abdulwahab was seen on CCTV trying to detonate one of the devices and succeeded in blowing himself up 15 minutes after the car was set on fire.
A mobile phone was recovered from Abdulwahab's body, which he had used to make two calls earlier that day to a mobile in Glasgow.
Within days, Menni - who was known to some in Glasgow as an asylum-seeking Kuwaiti called Ezeeden Al-Khaledi - had been identified as the owner of the phone.
He was placed under surveillance and the subsequent investigation revealed extensive links between the two men.
The court was told that Menni is believed to have come to the UK in 2005. According to police, the two men became close after meeting in Luton and were in contact on a daily basis.
Abdulwahab is said to have became radicalised and his views caused concern among others at a mosque he attended in Luton.
It is thought that Menni also became radicalised in early 2009. In April that year he left his job in Dunstable in an apparent attempt to distance himself from Abdulwahab.
After surfacing in Liverpool, he claimed asylum using the identity of a Kuwaiti Bedouin called Ezeeden Al-Khaledi.
As part of the asylum dispersal programme, he was sent to Glasgow where he lived in a number of locations around the city.
During this time he used a number of aliases to fraudulently claim benefits. He also managed to save money from various jobs.
Police later discovered that Menni had a number of bank accounts in various aliases through which he transferred cash to Abdulwahab to fund the terror plot.
Menni deposited amounts totalling £5,725 which helped pay for Abdulwahab's trips abroad for the "purposes of Jihad" and the Audi car used in the bombing.
'Accomplished liar'
Another £1,000 was sent intended for Abdulwahab's wife after his death.
It emerged during the trial that Menni and Abdulwahab also had access to an email address with a password that included the figures "911" - thought to be a reference to the Twin Towers attack in New York.
It is believed they would discuss tactics with each other in messages saved in the account's "drafts" folder before they were deleted. This meant no emails were ever actually sent between them, leaving no trail.
Menni also suspiciously used other people's computers while in Glasgow to contact Abdulwahab - despite having the means to buy one for himself.
Police eventually homed in on Menni on 15 December 2010 - days after the blast.
Menni, who was described in court as an "intelligent, but accomplished liar", claimed to have no knowledge of the suicide bomber.
Detectives raided his 19th floor tower block flat in Glasgow's Whiteinch area on 7 March last year. He was found guilty in July.