Tarantula found in Glasgow street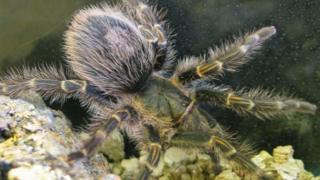 Animal welfare officers are attempting to rehome a tarantula which was found in Glasgow city centre.
The Chilean rose tarantula was found in a plastic tub, next to a rubbish bin, in Clyde Place on 23 August.
A member of the public handed it in to the Scottish SPCA's Glasgow animal rescue and re-homing centre, where staff have named it Rosie.
The charity said it was "very cruel" to dump Rosie where she could have been cleared away with rubbish.
Scottish SPCA chief inspector Fiona Henderson said: "The man noticed a plastic tub with a ventilated lid beside a bin and, when he went over to investigate, discovered there was a tarantula inside.
"Chilean roses are popular pets and aren't venomous but most people would probably get a fright if they came across one.
"Thankfully, the man who found Rosie wasn't too fazed and he put the container in his car and brought her straight to us."
Ms Henderson added: "Tarantulas might not be everyone's ideal pet, but they are wonderful creatures and certainly don't deserve to be dumped.
"We'll soon be looking to find Rosie a knowledgeable owner who will appreciate her."