Truck builder Terex to shed jobs at Newhouse plant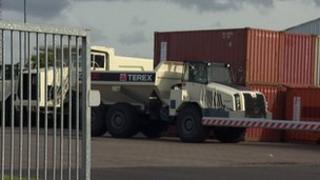 US truck builder Terex has announced it is to shed 70 jobs at its site in North Lanarkshire.
Most of the company's 590 staff at its truck building plant in Newhouse will also be moved to a part-time rota.
The management said it regretted reducing staff numbers but a drop in orders had forced a restructuring.
A consultation exercise with staff and unions will now take place. A spokesman for the Unite union said it will do all it can to defend members' interests.
Staff members will initially be offered the opportunity to be considered for voluntary redundancy.
Paul Douglas, general manager of the plant, said: "It is with regret that we have to make this announcement.
"We fully understand the important role Terex plays in providing employment in the Lanarkshire community.
"My management team and I are working hard to limit the effect the downturn is having on our business and our team members but, unfortunately, the orders for trucks are not coming in which means we cannot continue to operate at the level we have been previously.
"Reducing team member numbers and a shorter working week is now an inevitable part of the actions required to provide stability and to help secure the future of the Terex facility in Motherwell."
Michael McMahon, the Labour MSP for Uddingston and Bellshill, began an apprenticeship at Terex Equipment in 1977 and worked there for 15 years.
"This company employed more than 1,500 people in the area when I started work there but this has gradually reduced over the years," he said.
"Terex is still a significant employer in Lanarkshire but given the current trading conditions it is unable to sustain the current workforce despite its best efforts.
"I would urge the Scottish government to do what it can to support businesses like Terex through difficult periods like this and ensure that those who are made redundant are given the opportunity to retrain to allow them to get back into the job market."