Craig Roy loses appeal bid to reduce jail term for Jack Frew murder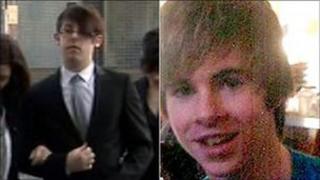 A 20-year-old man who was jailed for life for the brutal murder of schoolboy Jack Frew has lost a legal bid to have his 18-year minimum jail term cut.
Craig Roy admitted stabbing 16-year-old Jack 20 times and slitting his throat in woods in East Kilbride in May 2010, but had denied murder.
He was found guilty of the charge after a trial at the High Court in Glasgow.
Roy claimed to have no memory of the killing, which took place after he had cheated on his boyfriend with Jack.
Lord Clarke, who considered the appeal with Lord Brodie at the Court of Criminal Appeal in Edinburgh, said: "We have reached the conclusion that the appeal against sentence must be refused."
Sexual contact
The senior judge said that because of the issues canvassed in the case and its sensitivity, they would give their reasons for the decision at a later date.
Roy was convicted in February of murdering Jack at woods near Wellelsley Crescent and Mossneuk Road, in East Kilbride, on 6 May 2010.
His trial heard how Roy, who was then aged 17, had carried out a frenzied attack on his fellow pupil at the town's Duncanrig Secondary School.
The court was told that Roy was in a relationship with Christopher Hannah, but had had sexual contact with Jack.
Before going to the meeting in the woods, he had armed himself with a knife.
Roy claimed that he just wanted to scare the teenager, who he claimed was blackmailing him.
He also claimed that he could not remember any details of the fatal attack.
Roy was convicted after the jury rejected defence claims that he should be convicted of the lesser charge of culpable homicide on the ground of diminished responsibility.
Trial judge Lord Doherty told Roy in sentencing him: "You carried out a brutal, sustained and merciless attack."
Roy lodged an appeal against the 18-year minimum term. His solicitor advocate John Scott QC argued that when compared with other cases, the punishment part looked "out of place".
Personal life
He said: "It is important to acknowledge this case represents a tragedy for Jack Frew's family in the loss they have suffered and continue to suffer."
Mr Scott said there was a degree of premeditation in the circumstances of the offence, but not for what happened.
He said: "He felt that taking the knife was the only way to get his point across."
"The appellant felt his personal life and circumstances were under threat, and in particular his ongoing relationship with his partner."
Mr Scott also argued that insufficient weight had been given to Roy's personality traits and pointed out that he was under 18 at the time of the killing.