The Barras market at heart of Calton regeneration plan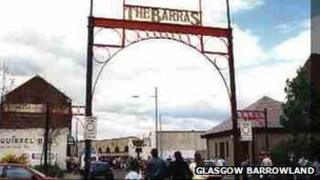 Glasgow's Barras market is to be placed at the heart of a multi-million pound plan to transform the Calton area.
The city council has approved plans for a 15-year regeneration scheme to bring vacant land into use and overhaul key buildings.
The first stage will see a budget allocated for a five-year action plan.
Some improvements to the area, which will be a gateway to Commonwealth Games venues in the east end, could be in place by 2014.
Details of the Calton Area Development Framework were approved by Glasgow City Council's executive committee on Thursday.
Glasgow City Council's Bailie Liz Cameron said: "Calton and the Barras have historically played a key role in the development of Glasgow, and this framework points the way for their future regeneration.
"The area has many assets, particularly in its location, close to the city centre and the massive potential now being unlocked in the east end.
"Its future development will benefit both local people and businesses and the economy of Glasgow as a whole."