Rescue frees driver in Erskine after lorry overturns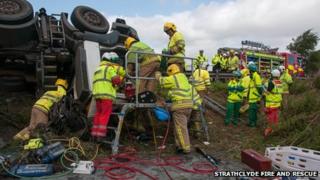 A major rescue operation has freed a seriously injured driver from an overturned lorry in Renfrewshire.
The vehicle came to rest overhanging an embankment on the A726 Barnsford Road in Erskine at about 09:43 on Tuesday.
Fire crews from Clydebank and Renfrew arrived soon afterwards and stabilised the lorry before working with a surgical team to extract the driver.
He was freed at about 13:00 and taken to Paisley's Royal Alexandra Hospital, where he is in a stable condition.