London 2012: Barrowlands stages Olympic dance finale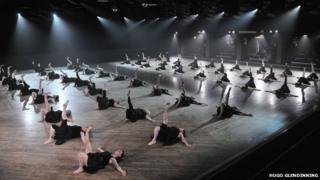 A large-scale community dance project has been staged at Glasgow's Barrowlands ballroom as a finale to the London 2012 cultural programme.
The event was specially created by Scottish choreographer Michael Clark.
The Barrowlands Project featured local people as performers alongside professional dancers from Scotland and members of Mr Clark's dance company.
The participants in the project have recorded their experiences of working on it on a dedicated website.
Councillor Archie Graham, who chairs arts organisation Glasgow Life, said: "Michael Clark Company is renowned worldwide and Glasgow was delighted to welcome them to the city's iconic Barrowlands ballroom.
"Either by being involved in the project itself or by coming along to watch the performance, The Barrowlands Project has been a brilliant opportunity for the people of Glasgow to get involved in the Cultural Olympiad and the London 2012 Festival and celebrate Glasgow as an Olympic city."
London 2012 festival director Ruth Mackenzie described Mr Clark as one of "Scotland's brightest international stars" and said his work pointed to the "cultural glories" that would be part of Glasgow 2014.
Anita Clark, of Creative Scotland, added: "The Barrowlands Project marked the culmination of the ambitious Scottish programme for the London 2012 Festival.
"It is fantastic that Michael Clark, a choreographer who has made such an impact on dance internationally, returned to Scotland to create a new work especially for Glasgow involving many local people.
"The commitment and focus of the participants, many of whom had never performed before, were inspiring."